World Series Of Poker
2006 Daily Report
LAS VEGAS
June 25 – August 10 2006
---
Reports : July 4th 5th 6th 7th 8th 9th 12th 13th 14th 15th 16th 17th 18th 19th 20th 21st 22nd
Reports : 23rd 24th 25th 26th 28th 29th 31st
Reports : Aug 1st 2nd 4th 5th 6th 7th 8th Latest
WSOP Editor in
Las Vegas

26th July 2006

Todays report comes from across the Flamingo Road, over from the Rio, at the Palms. A late invite to view a movie called "No Limit" followed by a party at Rain, the casinos nightclub.

The movie follows Susan Genard as she travels across America, from Foxwoods in CT to the Commerce in SoCal via the Bellagio and Binions in the Nevada desert. The movie is like Anthony Holdens "Big Deal" only not as well written.

We hear Devilfish " I would swim through shark infested waters with a pork chop round my neck to play the Americans." How times have changed. He couldn't even swim from Hull to Holland and beat the game.

Thor Hansen, "If I won a million I would pay back the money I owe."
" What about the rest? "
" The rest will have to wait ", quipped the likeable Norwegian.

Body painted women, rather older than the nubiles we have seen promoting the online sites, greeted us at the red carpeted entrance to the elevator than whisked us up to the rooftop lounge in the casino. " Nobody famous here tonight," the bartender said to me. Obviously not a poker fan as Mike Sexton, Amir Vahedi, Mel Judah , Kathy Liebert, Chip + Karina Jett were all stood at the bar.

Tomorrow we have the last final table before the Main Event starts. No English interest. KJ Kerrigan (17th), Luke Smith (19th), Raynor (30th) and Paul Westley (32nd) all won at least $11478 in this 2803 player tournament.

In todays final tables two of my "dark horses" finally made a final table. Daniel Alaei (Vegas) is still heads up v David Williams in the No-Limit 2-7 Draw Lowball w/rebuys (last event before the big one). Where do these young guns learn to play these games? Bill Edler, who is backed by Erich Lindgren, finished 5th in the stud 8/better. That also is heads up (Poels v Dinkin) as I write. 21 year old WSOP sensation Jeff Madsen finished third. He has won two bracelets and had two more final table appearances this year.

The media event is tomorrow. I don't think I will play as I have a shoot for Pokerblue at 4pm followed by a Doyle Brunson roast at 6pm. Drew Barrymore and Pamela Anderson are scheduled to make appearances tomorrow.

1) Body painted women + 2) Mike Sexton, Susan Genard, Amir Vahedi + date.
---
Body painted women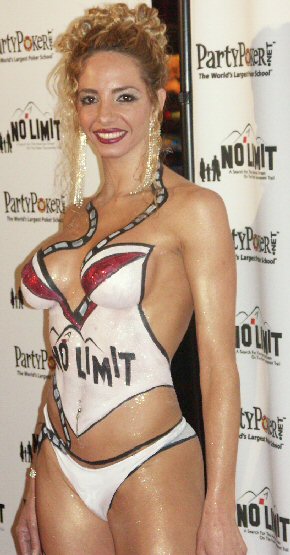 Mike Sexton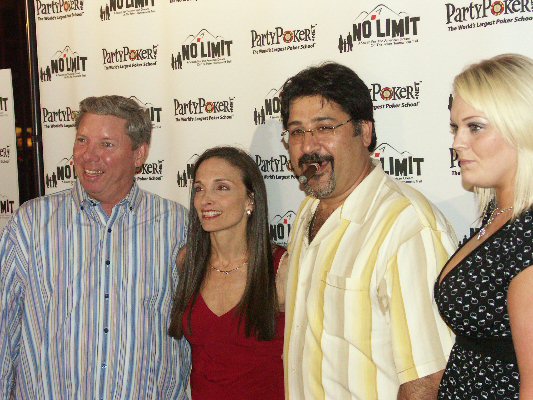 ---
---
---