World Series Of Poker
2006 Daily Report
LAS VEGAS
June 25 – August 10 2006
---
Reports : July 4th 5th 6th 7th 8th 9th 12th 13th 14th 15th 16th 17th 18th 19th 20th 21st 22nd
Reports : 23rd 24th 25th 26th 28th 29th 31st
Reports : Aug 1st 2nd Latest
WSOP Editor in
Las Vegas

13th July 2006

The day started with a dealer meeting that delayed the start of the tournament. One of the problems was when the dealers received their first paycheck last week they were informed it included tips for event #1 only. The arrival of the second paycheck today skipped to event #5. (Sounds just like the good old days at Binion's Horseshoe)

Also some dealers found they were not paid for sitting at tables when not dealing. I assume this includes during players dinner breaks when the dealers guard the tables but do not deal cards.

A second meeting was held when the swing shift dealers arrived this evening.

A stronger media room was also unhappy about a large and active security around the HORSE tournament that effectively blacked out the non Card Player media. I don't actually mind letting these interns conduct chip counts if only they are reported accurately. During one break I congratulated Max Pescatori for being the chip leader with a six figure chip count. "I only have 41k " replied Max . Patrik Antonius ' friend Claus Nielsen informed me Patrik had 275k when he was online at 225k.

With over 120 all stars in the HORSE the cunning Joe Beevers and wise Harry Demetriou sensed they were getting good value in the $2500 short handed. How right they were. Add A.Ramsden and we have a British trio left in the final five tables.

Tom Birmingham, Bristol, UK - ($2127), Richard Ashby, Watford, UK - ($4255) and Trevor Whitenay of Newton Abbot ($5957) finished in the money.

---
Harry Demetriou in the $2500 short handed event.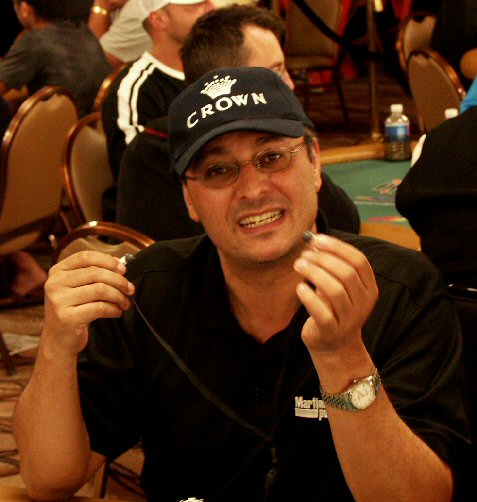 ---

---
---