World Series Of Poker
2006 Daily Report
LAS VEGAS
June 25 – August 10 2006
---
Reports : July 4th 5th 6th 7th 8th 9th 12th 13th 14th 15th 16th 17th 18th 19th 20th 21st 22nd
Reports : 23rd 24th 25th 26th 28th 29th 31st
Reports : Aug 1st 2nd 4th 5th 6th Latest
WSOP Editor in
Las Vegas

7th July 2006

New WSOP rules for this year have been created to protect the Rights purchase by Card Player of the main coverage. This makes it difficult to cover the closing stages of any tournament. But we endevour to bring the latest in results and gossip.

John Hoang lives near Santa Anita racetrack. Its not the horses but John who is "suffering" from seconditis. Five of his last six cashes have been seconds. Today in the WSOP Stud tournament was no different losing to a pair of fours held by David Williams. David Williams knows what it is like to finish second of course.

The win today was small compared to his main event second, $163k. I wonder if he backed himself at 20-1 to win a bracelet? It always looked better value than the 20-1 Evelyn Ng.

Third was veteran Jack Duncan who won a bracelet in PLO when both Ross + Barny Boatman made the final table BIP (before internet poker).

As I write we have a good Omaha 8/better final with Kirill Gerasimov, Phil Ivey , Mike Wattel (Cyndy Violettes boyfriend) and Sam Farha. Richard Ashby finished 12th for $12k.

I had dinner with likeable Canadian Graham Duke. The kung fu(sic) chicken didn't do him any harm as he goes to the final table,of the LHE, as chip leader. We discussed how he should arrive early tomorrow and find himself a sponsor.

The photo is of Quinn Do the mighty Quinn .Please do not look at the final table ,in the background , as that would be against the rules of Harrahs!!!


---
Quinn Do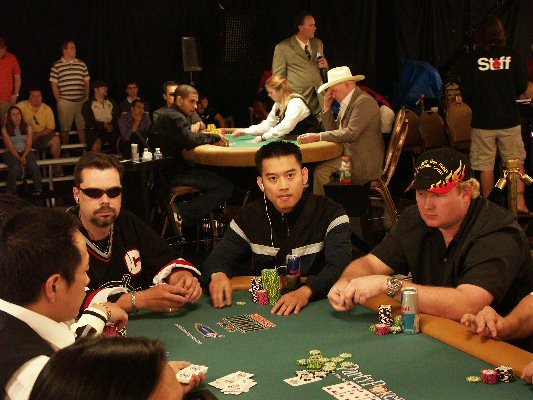 ---

---
---