World Series Of Poker
2006 Daily Report
LAS VEGAS
June 25 – August 10 2006
---
Reports : July 4th 5th 6th 7th 8th 9th 12th 13th 14th 15th 16th 17th 18th 19th 20th 21st 22nd
Reports : 23rd 24th 25th 26th 28th 29th Latest
WSOP Editor in
Las Vegas

16th July 2006

No gold for the Brits today although Julian Gardner played his usual "A" game. He finished third,which was worth $172,427, when his straight lost to a flush. Jeff Madsen ($661k) won with Paul Sheng second for $330,485.

John Shipley left in the first five minutes with Jh7h v JJ. Ninth place was worth $40k.

Peter Costa, featured yesterday, made tomorrows final table. If you think Peter might be a Yankee now, think again. His Scouse accent is as thick as ever. I think thats why he always talks with me on breaks. No one else understands him.

Another friend and really nice guy joining Peter at the table, Thor Hansen another transplanted European.

That man Hellmuth will be there also. What a WSOP he is having and he broke a record today for WSOP cashes.

Harry Demetriou was escorted from the room by security earlier after complaining about the shoot out set up. Harrahs stated 100 people will qualify for Day 2. The tables were set up 9 handed. Less than 600 players entered so Harrahs played 100 tables six handed. Seems fair to me but Harry expected to play nine handed and demanded to discuss matters with someone higher than the floor people, who are dealers in suits to be honest.

The DiS (Dealers in Suits) didn't like his attitude so security escorted him from the room. He later received a refund. (Don't worry harry, the British are coming and we'll make them drink tea.- Ed.)

Fingers crossed for Peter or Thor later.
---
Thor Hansen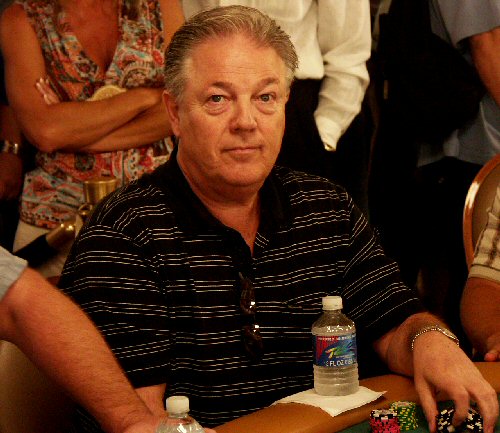 ---

---
---