World Series Of Poker
2006 Daily Report
LAS VEGAS
June 25 – August 10 2006
---
Reports : July 4th 5th 6th 7th 8th 9th 12th 13th 14th 15th 16th 17th 18th 19th 20th 21st 22nd
Reports : 23rd 24th 25th 26th 28th 29th 31st
Reports : Aug 1st 2nd 4th 5th 6th Latest
WSOP Editor in
Las Vegas

6th July 2006

With the camera crew on extended vacation we had a very "run of the mill" field for the $1500 LH. It looked more like Southwell in January rather than the WSOP. As I write "rough diamond" Carlo Citrone, the Geordie with the looks only a sunbed can give you in Newcastle, may be hitting the wall.

He has been at or near the front of the field for most of the day.

My friend Doug Carli went card dead "unless you consider 23 suited a good hand " at the final table today. He still picked up $117k for seventh place.

Montreal Ms Isabelle Mercier finished 5th for $175k
Bespoke Marcel Luske 4th for $204k
Gene Todd 3rd for $234k

After a marathon heads up dual Jeff Cabanallas beat Phil Hellmuth.

Rather controversially a pokernews writer and myself were prevented from watching the final despite the fact we removed our media badges and left our cameras in a safe place. The pokerstars blogger, Otis, was allowed to blog live. Nolan Dalla, the media director is also on pokerstars payroll.

Roy Brindley received extensive coverage on TV last night when the PPT event from Foxwoods aired. I would like to offer Roy an over/under bet of 60 on the $50k H.O.R.S.E tournament. (Roy is quoted as saying that "Helmuth, Cloutier, Ferguson, Chan et-al – can be rolled out for the cameras for this 'superstar tournament' which is unlikely to attract more than 40 players", in this months poker news)

The problem for media is we are not allowed to photograph or report on a tournament with under 150 players so I am hoping for a huge turnout. I asked in Doyle's Room if they were planning to enter all their pro's and the answer was negative.

STOP PRESS - Carlo Citrone 42nd $2775 Warren Wooldridge from London survived the day.

Todays Pictures 1) Carlo Citrone 2) Doyle's Room.

---
Carlo Citrone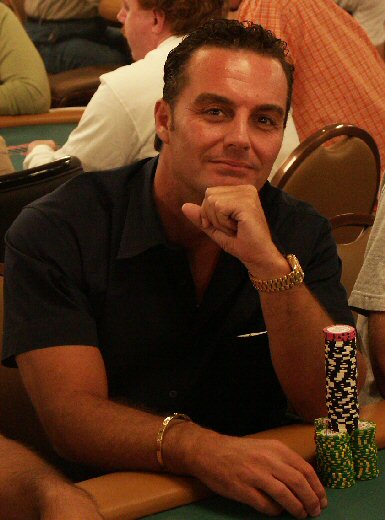 Doyles Room and Ultimate Bet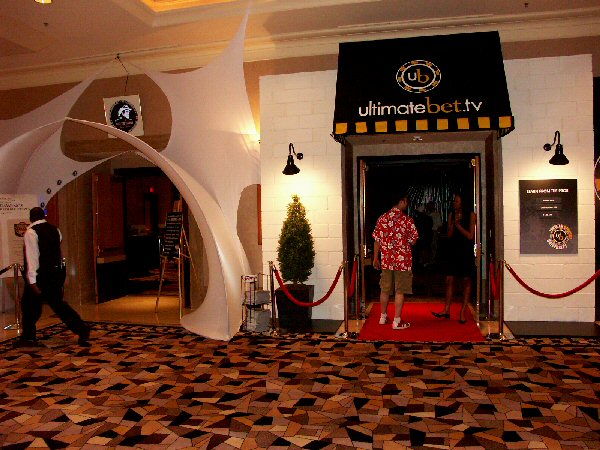 ---

---
---