World Series Of Poker
2006 Daily Report
LAS VEGAS
June 25 – August 10 2006
---
Reports : July 4th 5th 6th 7th 8th 9th 12th 13th 14th 15th 16th 17th 18th 19th 20th 21st 22nd
Reports : 23rd 24th 25th 26th 28th 29th 31st
Reports : Aug 1st 2nd 4th 5th 6th 7th 8th Latest
WSOP Editor in
Las Vegas

5th July 2006

Its tough for anyone to play the American circuit without sponsorship these days. I was surprised to hear that Barry Greenstein had signed a deal with pokerstars though. Barry wasn't wearing pokerstars logowear today in the stud tournament so maybe the lawyers have to read the contracts.

I spoke to two of my friends today. Both retired and are following their dream to become a pro poker player. Bill Seber won $177k in October at the Bellagio and has a baker's dozen of small cashes since. So I was sad to learn that Bill has reluctantly decided to put away his suitcase and retire from poker unless he makes a six figure cash this WSOP.

He told me that he has still lost money following his dream. Doug Carli travels with his wife so $30k in Tunica in January plus $2k here means Doug won't have to worry about the taxman.

The story might yet have a happy ending, for Doug at least. He was the shortstack with 31k, in the $5k NLHE, at dinner break. Aces in a 3 way pot tripled him up and he starts the final table, the best of the WSOP so far, with 273k, about average. Even ninth place pays $58k.

Joining him at the, untelevised, table will be Isabelle Mercier 301k, Marcel Luske 458k ,Phil Hellmuth 461k, Vinnie Vinh 784k, Gene Todd 240k, Jeff Cabanillas 275k, Tom Scheiber 200k and Dan Smith 117k.

Conor Tate finished 15th for just over $26k. He confirmed that the Michael Owen story was true. His son attends the same school I did .That should put up a red flag. DJ Mark Radcliffe and myself were classmates. Rob Hollink finished 16th.

Simon Trumper + Gary Bush arrived today. Although jumping straight into the tournaments might seem like a good idea at noon (pst) you certainly regret it if you are still playing, out of the money, at 2am (pst).

The seven card stud tournament started today and attracted over 600 players. Doyle + Todd Brunson were drawn together. David Williams has a clear lead as play draw to a close. Dave Colclough played and sat next to Phil Laak.

Todays Pictures 1) Doug Carli 2) Colclough + Laak.

---
Doug Carli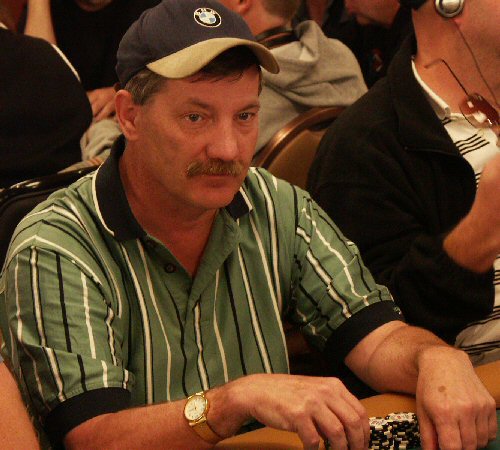 Dave Colclough + Phil Laak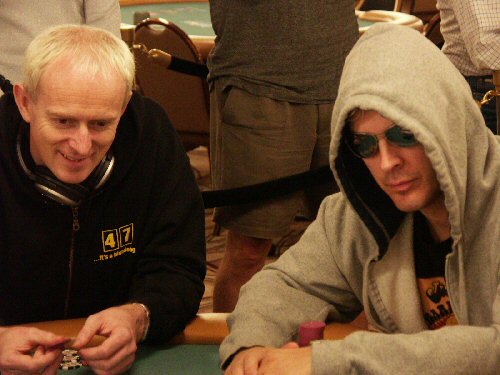 ---

---
---