World Series Of Poker
2006 Daily Report
LAS VEGAS
June 25 – August 10 2006
---
Reports : July 4th 5th 6th 7th 8th 9th 12th 13th 14th 15th 16th 17th 18th 19th 20th 21st 22nd
Reports : 23rd 24th 25th 26th 28th 29th 31st
Reports : Aug 1st 2nd Latest
WSOP Editor in
Las Vegas

14th July 2006

Todays controversial topic at the WSOP was the old chestnut of tax on winnings. Apparently Julian Gardner, Bruce Corman and Steffan from Sweden, a player and media room colleague, were picked up from tournaments and told they could not play here again until they paid taxes on last years winnings.

Julian and Bruce returned to play. Steffan left after informing us he had been staying at the Rio for a week so why did they wait until he was playing in a tournament?

ESPN demanded that the HORSE tournament play down to 9 yesterday .Well they played until 9am to reach 9. As a result the media room was a lonely place although with plenty of coffee for once. As I write Andy Bloch is playing Chip Reese heads up. Both players are guaranteed at least $1m. The final table has only lasted 4 hours considerably under the media room 8hrs over/under line. Of course with $3m each in chips the game could last another 4 hours.

Harry Demetriou has another final table appearance to add to his CV. This time in the 6 handed tournie. Aussie M. Guttman is the chip leader. Another tax problem? They don't call Harry "the wise owl" for nothing.

Todays photo is Julian Gardner on the right and Kirill Gerasimov.

---
Julian Gardner on the right and Kirill Gerasimov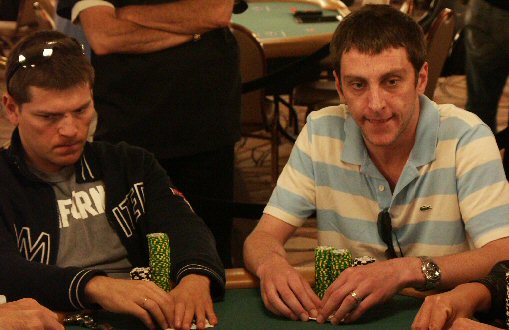 ---

---
---