World Series Of Poker
2006 Daily Report
LAS VEGAS
June 25 – August 10 2006
---
Reports : July 4th 5th 6th 7th 8th 9th 12th 13th 14th 15th 16th 17th 18th 19th 20th 21st 22nd
Reports : 23rd 24th 25th 26th 28th 29th 31st
Reports : Aug 1st 2nd Latest
WSOP Editor in
Las Vegas

9th July 2006

The PLO players voted to halt play to watch the penalty shootout. Nice to see democracy at the WSOP. I was thinking of opening a pokerroom/bar/strip club in Dubai the way things have been over here recently.

Max Pescatori, the Italian, won a bracelet today. He described it as the happiest day of his life. Max was one of my first poker friends. After an all night tournament at the Commerce I decided to use a variety of bus + train to go to Redondo Beach. During the journey, my mobile rings and Max wanted me to accompany him to the races. "Get off at the next station and I will pick you up" Max said. The train enters a station ."OK, Max. I am in Compton" "DON'T get off the train, we can go to the races another day ..."

He wanted to claim a horse to run during the Commerce then hope someone claimed it before he moved up to Bay101.

Max has recently been signed by Doyles Room. A memorable day for the site as Tom Franklin is the chip leader at tomorrows final table and Todd's wife Anjela is running hot in the Ladies tournament.

Speaking of the Ladies, 1100 entered todays tournament. It was more like an elimination heat for Miss World rather than a poker tournament .Celebrities included Shannon Elizabeth, Ricki Lake, Kelly Hu, Mimi Tran and reigning champ Jennifer Tilly.

Lots of good photos of this event at http://pokerfolio.com/Gallery3/album01 Our photo shows the boys from Italy who watched the game at an Italian restaurant then moved to the WSOP. They were quieter than the Aussies at last years WSOP Main Event (World Championship) final.

Julian Gardner made an appearance in the $5k PLO event. All four Hendon Mob players plus Bruce Corman, Colclough, Trumper, Conor Tate + Devilfish joined him. Devilfish is telling the Ladies he is recently divorced .... Roland de Wolfe is the best of British as I write.


---
The Italiens after the match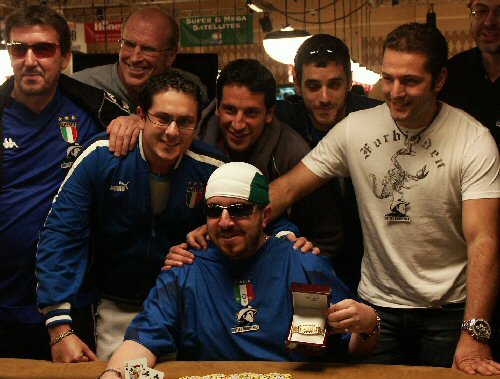 ---

---
---