World Series Of Poker
2005 Editor's Reports
LAS VEGAS
June 2, 2005 – July 15, 2005
---
Day 7 - Nine millionaires
15th July 2005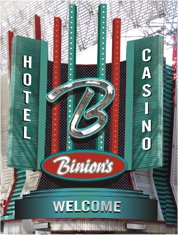 The final started at 4:40 p.m. in Binions Gambling Hall and Casino in Downtown Las Vegas. Three days ago the horseshoe that had symbolised Downtown Las Vegas for 50 years had been removed by crane. It had stood above the main entrance all that time.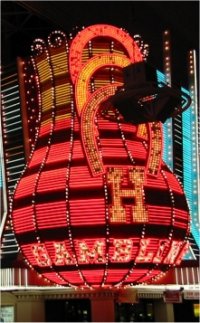 On the right is how it looked just a year ago and on the left is how it looks now. In side the casino you can still see signs of the horseshoe dotted about but that name is still owned by Harrahs Casino organisation after the sale to West Virginia-based MTR Gaming.

Upstairs from the Craps tables and Blackjack games is a small (by Vegas standards) room they still insist on calling Benny's Bullpen. The final played out in this thick atmosphere with little or no space for the queue of spectators that wound itself around the small mezzanine floor, past the hotdog stand and up to the press room.

A few real people got in to the Bullpen as the security guards were finally pissed off with the 500 people with press badges. ESPN, the TV company filming, couldn't have cared less about the queuing public so long as the press people ditched the big tags hanging around their necks. Which we didn't. I didn't fight my way into the room other than to get a feel of it. A slight improvement might be needed next year to prevent war breaking out.

Over in the press room we had a great big TV screen. Knowing what could happen (it could go on for ever) we prayed for sudden death. Hand number two gave hope when Matusow took on Lazar who had gone all-in. Motor-mouth (Mike Matusow) turned his pair of Kings over only to Lazar's Aces. Lazar being all-in we were at first dismayed but the flop showed a King and The Mouth jumped around the room. The turn brought a fourth heart for Lazar and then eruption in the playing room and gloom in the press room, heart number five turned up to double Lazar through Matusow.

When on hand 7 Brad Kondracki had his pair of Tens out-flopped (Q-J-4) by Steve Dannenmann holding Ace-Queen we were once again hopeful. No. Fifth card once more brought Kondracki steaming back from the low chip position with a spade flush. It looked bad and it was not to change.

06:40 a.m. was the finish line. Hand by hand movement can be seen here.





To brighten life up after 21 straight days of watching poker finals I hastened upstairs to the famous Binion's Ranch Steakhouse with an unparalleled 24th floor Vegas Valley panorama. Decor is kind of Victorian but who can tell when they use 6 watts of lighting power for a table of four people. I mean it was dark.

I was joined by Tony Holden (Big Deal) and got stuck into the menu with Escargot, Pork and Veal. It was excellent and the house Californian Cabernet Sauvignon was very good. Oh and the Chardonnay. And the Cognac and the Whiskey. With all that expect to pay about $80 each but its well worth for one other factor, the view.

Upstairs, expecially from the smoking section, the view of the mountains and the Vegas landscape including the strip is really the best in town which says something meaningful. We took a full two hours looking at it and our friendly barman told us that Jack Binion had dined last night for the first time since the nasty debacle with sister Becky over the running of the casino. He gave in to her for a few million dollars that she didn't have. He doesn't care. It was probably his greatest move as earlier in September Jack sold his Horseshoe Gaming Holding Corp. for $1.45 billion to Harrahs.

It you would like to go this fine eatery is best reached by taking the glass elevator suspended on the outside of the hotel tower. For Reservations Call 702.382.7203.

If you're looking for poker Downtown then Binions has a very good selection of live games and tournaments. Across the road the Golden Nugget has about 11 tables with a nice 1-2 No-limit game. Good tourist action.

I'm heading home not before time. I'm sorry to say that Downtown is still the best place in town. The strip is a rip-off. So I'll be back there next year.

Pictures of the Finalists. Players who made it to the Prize list.


---