World Series Of Poker
2005 Editor's Reports
LAS VEGAS
June 2, 2005 – July 15, 2005
---
T plus 3 - Two days too many
9th July 2005

Noel Coward -" I'm over-educated in the things I should never have known at all."

The third of the three first days played Saturday. Combined results of all three can be found at the day ones page.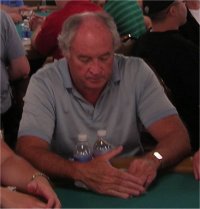 Donnacha O'Dea


If I had known what a circus this was to be then I would have entered myself rather than watch it. Its far more preferable to be inside the ring wearing the silly hats, sunglasses and shirts than to look at them. I want to jump out of my seat and scream "yeah baby" and dance around the table like a drunken rap artist.

In complete contrast to the lunacy and shear juvenile bad manners you can see the odd player like Donnacha O'Dea (London and Ireland) who took eventual elimination from the Championship with grace and good pragmatism. The seasoned campaigner, 23 years at the WSOP and Poker Million Masters II champion, signaled his fate by the simple move of passing his fingers across his neck., the international poker players guillotine sign.

Day 1C finished and left 1886 players grateful to playing on the real day two.





Tonights trip was designed to check-out the poker spots of Las Vegas. A quick walk over the road and I found myself at the Palms. This is a young persons casino, especially Saturday night, but they've been running good value poker competitions during the World Series. Their poker hall was very well run but their normal poker room is small, siome 10 tables only with the most bizarre Palms symbol on the cloth that sent players into a trance.

Joining the sizeable taxi queue outside I watched a short lived bottle fight (without death or casualty) between the first fifteen people in the line and I quickly jumped into a suddenly available cab.

"Thanks for shortening the queue", I said in passing to the Taxi Rank attendant. He actually smiled. The Las Vegans are really trying to make me feel at home.

Over to the Luxor I spent some time walking around in circles, pointlessly believing the directions on the signs above my head. When I found it was too open and noisey for me to play. Eleven tables. You can walk from the Luxor straight into the Excalibur where they have 19 tables in a sprawling and completely open poker area. Keep on walking out of the casino.

Outside you can join the walkway over Las Vegas Bvd to the New York New York, a colloage pastiche of the great city. New York itself is an exciting place to be, this casino had gone too far in recreating the sleazy sidewalk feel and aromatic humidity of NYPD Blue. And there is no poker room. Onwards

MGM Grand. This is more like it. Its enormous so don't ask where the poker room is but it is wrapped around a groovey looking bar that sports go-go dancers. Twenty-two tables fully in play with a modern (digital display) waiting list system told me that people wanted to play here. There's even a balcony overhead so that your loved ones can watch you play. But then what are you doing taking your loved ones to a poker room. By far the best room of the night.

I was tired though and headed for my favourite Wynn's poker room. Too full of people full of themselves so after I picked a couple of hundred in the 6-12 Omaha Hi-Lo it was time for bed.
Pictures from today T plus .


Next days report
---