World Series Of Poker
2005 Editor's Reports
LAS VEGAS
June 2, 2005 – July 15, 2005
---
T minus 1 - World Series Of Poker Lifestyle
6th July 2005

Today was not the end of the beginning and it was not the beginning of the end, it was infact the start of the World Series Of Poker Lifestyle Convention.

I know what you are thinking when you say these words to yourself. Stalls will be selling an old smokey hotel room, tiffany lamps (as in The Cincinnati Kid), Stetsons, cigars and a barrel of whisky in shrink wrapped boxes. Take one home and inflate for your very own World Series in your garage. And if it came with this girl I would buy one.

What the WSOP 2005 lifestyle thing-a-ma-doooda is, is a lot of newcomers coming to town trying to cash in on the boom in poker across the world. DVDs, books online training were there to be had and signed for in exchange for your email address and your chance to win a Porsche or a Harley Davidson.

The world of poker has changed forever, or until the TV companies get bored. It has become a rolling "reality TV show", though this more than the others you see on TV has blurred the boundaries between fact and fiction so much that they have actually merged into a Frankenstein creation. His monster was just misunderstood and maybe this will be something we can all live with when this initial flurry of money and attention disappears. I hope so.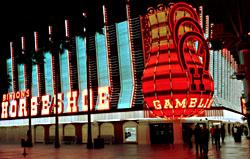 The Jack and Benny Binion version of the World Series in Binions, downtown Las Vegas, has gone forever but believe me it is missed by those that enjoyed the grand hospitality and a welcome second to none. More than 50% of those attending this years event will not have experienced what it was like and to them this is just fine. We won't be going back.

Now back to the poker and at the moment there aint no where else to go. The thing we had today was the media event where the winners cheque of $10,000 went to their favourite charity. I was out in 10 minutes flat, A-9 against somebody from USA Today with A-5.

Later, after my unpleasant visit to the Mandalay Bay (below), I got back in the tournament hall at 4:30 a.m. to see the last $1000 satellite to produce entries for the Championship event. Five tables left with 45 players, 44 to go through, and they were playing hand-for-hand in a brutal death watch, 44 people praying for the exit of the low stack in every all-in heads-up play. When it finally came they were merciless, cheering loudly at the demise of the poor guy who picked up $3000 for his consolation. It didn't look like it was.





My evening trip was over to the Mandalay Bay Casino at the end of the strip. This is a high end place with a very expensive hotel and an even more expensive partner hotel next door, The Four Seasons. The floor space is enormous and the style is an almost subtle attempt at Raffles of Singapore. I stopped off at the Noodle bar, although Vegas is not known for its oriental food. The simple rice dish was very good, just like a Chinatown meal, but miss the Hot and Sour soup.

From there I headed for the poker room. I had to stand in line for 10 minutes just to get my name on the list where I was first!. The guy running the room was rude and pushy and the system at the table was a must move (you play on a filler table that sends players to the main tables to always keep them full) system. The place was understaffed and only one cocktail waitress was on hand to serve the necessary alcohol to allay my tension. Then the fire alarm sounded for ten minutes (no one moved) and an arsehole sat down next to me and never stopped opening his mouth. If I hadn't have been stuck $600 I would have been off like a shot but I played 4 hours until someone had the bright idea of going all-in with a spade flush draw against my trip 7s. Suffice to say no spade arrived and I got level and out of here.

Nice looking room though and ridiculously revealing outfits for the cocktail waitresse get them 3/10.

Pictures from today T minus 1.


Move on to tomorrows report

---