World Series Of Poker
2002 World Championship Report
LAS VEGAS
April 19th - May 24th, 2002
---
Jesse May Reports - Day Two - Day Three - Day Four - The Final
20 - 24th May - $10,000 World Championship Event (No limit Holdem) - 631 (+2.7%) players. Prizepool $5,931,400 (-3%). 1st prize $2,000,000 (+33%). 2nd prize $1,100,000. 45 places paid. Two records have gone, the top prize and the number of players.


Day One
Down to 610 at the first break after 1 level. Amarillo Slim was one of the first ones out (JJ beaten by AA). After play resumed many more top names went including TJ Cloutier and Dave Ulliott. This years champion will be different from last as Carlos Mortenson has also gone.

For interest the Hendon Mob all managed to show up at the start but Ian Dobson and former champion Noel Furlong did not due to health problems. (For Backgammon players' interest, a formidable set of names played - Jason Lester, Paul Magriel, Rick Barabino and Eric Seidel.). After the dinner break around 430 players left.

At the end of day one 357 players are left. Johnny Chan and Ram Vaswanni are close to the top. Chip Positions: 1 Alan Boston $65K 2 Julian Gardner (Manchester, Eng) $64K 3 Eskimo Clark $60K 4 Michael Feterl $59K 5 Glenn Cozen $56K 6 Gilles Hadden $51K 7 Rafael Perry $51K 8 Ram Vaswani (London) $50K 9 Douglas Booth $49K.

Top inform players Flack 47K and Phil Ivey 29K and Johnny Chan 40K are very well placed. Ross Boatman has 29K also but we think Barney is just holding in with a few chips. All four Hendon boys are still in and Londoner Gary Bush is bottom of the chip list but still there.

Good news for the Ultimate bet followers who in their freeroll, Hellmuth actually has some chips, 46K in 14th position. Doyle Brunson played and gave all his chips to Meng La who now has 42K in 19th position. Last years runner-up Dewey Tomko is still there in the mid-field.



Complete Day One Chip Counts
---
Jesse May Reports - Day One - Day Three - Day Four - The Final
Day Two
Into the second level of the days play (each level being two hours) and we have 274 players from the original 631. Day Two started with 357. Blinds are at 200/400 with a 50 ante.

The first Hendon Mobster to leave the room was a rueful Barney Boatman, the only player to cash in both the last two years. He managed to get all-in in a good sized pot with Aces against Eights and it had to wait until the River card for the 8 to fall. The other three are still all alive with Ram on about 50K and Ross at 43K.

Young rising star Julian Gardiner is making his way quietly up the chip stacks with 85K.

U.S stars have had some trouble staying in but two of top three tournament players in the world, Chan (50K) and Hellmuth, are both still well situated. Layne Flack, the hottest player is also well placed.

Irish eyes can still hope to see Padraig Parkinson in the winners enclosure, he's there with 25K as is Alan Betson.

After the Dinner Break
Julian Gardiner from Manchester, England holds the chip lead at 180K. Pepe Klinger of Austria is second with 150K.

We have played three levels today, six hours of poker and from a Day Two beginning of 357 they are now down to 184 players. Blinds are 400/800, antes 100.

Well placed are seasoned campaigners Phil Ivey 100K, Chip Reese 110K, Phil Hellmuth 100K, Tnoy D 75K, Alan Betson 75K, Ross Boatman 75K. Also Joe Beevers 50K, Surinder Sunar 50K.

Struggling is Johnny Chan 25K and Layne Flack is out.

At the End of Play Day 2
Chip leader is the young phenom from England, (1) Julian Gardiner with 199,800.
There are just 131 players left in.
The rest: (2) Chip Reese 176,100, (3) Peppe Klinger 153,700 (4) Dan Heimiller 149,200, (5) Allan Betson 129,800, (6) Phil Hellmuth 126,900, (7) Phil Ivey 118,300,
Padraig Parkinson is out. Ram Vaswani is out with AK vs QQ. Chan is out.
Jesse May's full report

Complete End Of Day Two Chip Counts
---
Jesse May Reports - Day One - Day Two - Day Three - Day Four - The Final
Day Three
Into the second level of the days play and we have around 100 players. Chip leader Gardiner is still leading with an improved stack at the 240K mark. Chip Reese has improved his stack also but not by as much, Gardiner leads comfortably.

Two levels gone and into level 11.
77 players left and the antes are 400, blinds are 1200/2400. The 5000 chips are in play. Leading now is John Shipley with 290,000. Shipley took a monster from Phil Ivey after the flop came A-3-x. They both put in over 130K, Ivey had trip 3s, Shipley A-K. The next two cards were both Aces!!

Tony D has 290K, Meng La 220K. Gardiner now has 160K after losing a large pot with Kings against the Aces of Denis January.

Habib has 180K, Whitt has 130K, Alan Betson of Ireland has 140K, Hellmuth has 120K, Reese 100K, Ross Boatman of London has 100K after making a Full House against Reese's trips. Jack Fox has 70K.

After the third level today they on a Dinner break
59 players left. The main story so far is Phil Hellmuth has gone. They got it all in, Phil with A-K versus Q-T suited and the flop came A-Q-T. Robert Varconyi took all the money and now has 220,000 chips. Phil was then left with about 25K which Ross Boatman busted him for. Ross still has about 100K.

Chip leader remains John Shipley with a very healthy 400,000 chips. Julian Gardiner has overcome his earlier loss and built back up to 300K. Tony D also has 300K.

Three Irishmen still have chip in the remaining 59. Alan Betson has 50K, Owen Mullin has 200K and Scot Gray has 110K. Its looking good for some serious Irish celebrations.

Amir Nasseri has 175K, Peppe Klinger 150K, Michael Feter 200K.

Play will continue after dinner for a further two levels or down to 45 players. The later looks more likely. Those players will all be in the money.

After 13 levels we reached 45 players where play stopped.
All remaining players are in the money, at least $20,000. 7 Europeans still in, they are: (3) John Shipley (Eng) $446,000, (6) Julian Gardner (Eng) $274,000, (8) Scott Gray (Ire) $236,500, (13) Owen Mullin (IRE) $154,000, (15) Sigi Stockinger (Aut) $152,500, (18) Martin Deknijff $129,500, (24) Ross Boatman (Eng) $100,000.

Alan Betson was out before the money with Jacks vs Aces in 50th place. Vikki Lincoln finished 65th. Chip Reese was out in 55th when his A 8 of Clubs lost to Ross Boatman's Ace Jack. The last 45 players made the money when Markus Golser found Jacks in the whole and shoved his $30,000 in the pot. John Shipley ( $400k under the hood ) called in a flash when he looked down and found Queens.


See chip counts and especially Jesse's report.



Complete End Of Day Three Chip Counts
---
Jesse May Reports - Day One - Day Two - Day Three - Day Four - The Final
Day Four
Today starts with 45 players and plays down to the final 9 players

Peter Giordano gone in 45th and gets $20,000 [started with $63K in 35th position]
Tristan McDonald 44th, $20,000 [started with $37K in 41st ]
Daniel M. Heimiller 43rd, $20,000 [$32K in 42nd]
David B. Sklansky 42nd, $20,000 [$9K in 45th]
Greg Alston 41st, $20,000 [$64K in 34th]
Brian Haveson 40th, $20,000 [$85K in 28th]
First early chip leader goes out
Jason M. Lane 39th, $20,000 [$218K in 9th]
Douglas R. Booth 38th, $20,000 [$89K in 26th]
The days first level is over
No big chip movements though Ross Boatman is living gangerously by moving up, then losing with Queens against Nines and then coming back again. Gardiner has improved.

Hertzel Zalewski 37th, $20,000 [started with 100K in 23rd spot]
Tom Schneider 36th, $30,000 [$27K in 43rd]
Randy Holland 35th, $30,000 [$68K in 33rd]
Ross Boatman 34th, $30,000 [$100K in 24th] made an odd call with 8-5 and hit an 8 which he bet but was beaten by 2 players, one pocket 10s the hitting a Q on the board.
Gardner, Varkonyi and Tony D leading with near $½m each

Scott Amos 33rd, $30,000 [started with $79K in 31st]
Steve Melton 32nd, $30,000 [$62K in 32nd]
Scott Amos 31st, $30,000 [$79K in 31st]
Rameen Sai 30th, $30,000 [$102K in 22nd]

Sam Whitt 29th, $30,000
Ray January 28th, $30,000 [$124K in 19th]
Luan Phu 27th, $30,000 [$81K in 30th]
Lamar Wilkinson 26th, $40,000 [$51K in 38th]
Kurt Paseka 25th, $40,000 [$88K in 27th]
Gardner, Varkonyi and Shipley leading now with near $½m each, Scot Gray has 400K and playing great stuff Ivey has 40K, Wilson 80K, Feter 150K, Sigi has 200K, Fox has 30K, Mullin has 200K, Cronkleton has 250K, Rosenblum 200K, Ko has 250K.

Phil Ivey 24th, $40,000 [started with $59K in 37th]
Minh Nguyen 23th, $40,000 [$112K in 21st]
Henry D. Crunkleton 22nd, $40,000 [$139K in 17th]

Going in to todays third level

Jack Fox 21st, $40,000 [started with $96K in 25th]
No body out for a while as play slows to a crawl. Another two to go and we are at the two table situation. There we will have new re-counts.
Stephen Wilsdon 20th, $40,000 [started with $50K in 39th]
Michael Feter 19th, $40,000 [$157K in 12th]
Playing Two Tables
There will be a break for sometime then
Level 15 10 minutes at 1000 antes with 4000/8000 blinds then going to
Level 16 2000 antes with 6000/12000 blinds
| | | | | | |
| --- | --- | --- | --- | --- | --- |
| Seat | Table 1 | Chips | Seat | Table 2 | Chips |
| 1 | Varkonyi | 400K | 1 | John Shipley | 520K |
| 2 | Deknijff | 340K | 2 | David Rubin | 120K |
| 3 | Minh Thoaily | 450K | 3 | Julian Gardner | 500K |
| 4 | Harley Hall | 150K | 4 | Scot Gray | 320K |
| 5 | Bernard Ko | 280K | 5 | Russell Rosenblum | 200K |
| 6 | Rafael Perry | 280K | 6 | James Neely | 280K |
| 7 | Yoshio Nakano | 100K | 7 | Owen Mullin | 280K |
| 8 | Tony D | 440K | 8 | Sigi Stockinger | 80K |
| 9 | Don Barton | 600K | 9 | Amir Nasseri | 600K |

Sigi Stockinger 18th, $50,000 [started with $152K in 15th]
David S. Rubin 17th, $50,000 [$143k in 16th] in the same hand to Rosenblum who has 400K
Bernard Ko 16th, $50,000 [$118K in 20th]
All time money winner Johnny Chan picks up the Bracelet winners Championship for bracelet number seven
James Neely 15th, $60,000 [started with $154K in 14th]
Yoshio Nakano 14th, $60,000 [$21K in 44th]
Martin Dekhijff 13th, $60,000 [$129K in 18th]
Owen Mullin 12th, $70,000 [$$154K in 13th]
Ralph Perry $900K John Shipley $900K Robert Varkonyi $700K Don Barton $650K Julian Gardner $640K
Level 17 3000 antes with 8000/16000 blinds
Amir Nasseri 11th, [$168K in 11th]
Don Barton 10th, [$170K in 10th]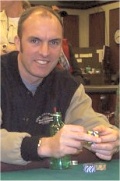 John Shipley in 1st

Julian Gardner in 7th

Final Table Chip Positions
John Shipley 2,033,000 (7/4)
Russell Rosenblum 927,000 (9/2)
Rafael Perry 766,000 (7/2)
Rob Varkonyi 640,000 (7/1)
Minh Ly 614,000 (6/1)
Scott Gray 545,000 (11/2)
Julian Gardner 394,000 (8/1)
Tony D 231,000 (9/1)
Harley Hall 161,000 (20/1)

see Seat allocations and Prize Money - The Final

---