World Series Of Poker
2002 World Championship Report
LAS VEGAS
April 19th - May 24th, 2002
---
Jesse May Reports - Pitcures of the Final Hand/Cash/Hairshaving
Day One - Day Two - Day Three - Day Four - Final Action - Full Championship Money List
20 - 24th May - $10,000 World Championship Event (No limit Holdem) - 631 (+2.7%) players. Prizepool $5,931,400 (-3%). 1st prize $2,000,000 (+33%). 2nd prize $1,100,000. 45 places paid. Two records have gone, the top prize and the number of players.


Final Day
(Words from Mike Paulle care of Binions)
You'd send your nickel-dime playing granny against this lineup, right? No WSOP bracelets among them. None! Total WSOP earnings for the group: under $450,000. They have a whopping seven Final Tables in all WSOP events with one second as the best result. Three of them had never made a penny in the Series before today. Those who like to complain, "tournaments are always won by the same people" will have to be still for a while. How's this for formidable credentials? These are the final nine's prior WSOP

Our chip leader, John Shipley: $37,270 Russ Rosenblum: $0 Rafael Perry (aka Perovskin) $58,340 Rob Varkonyi: $0 Minh Ly: $62,155 Scott Gray: $12,200 Julian Gardner: $0 Tony D: $228,532 Harley Hall: $25,260 Only Shipley (42nd, 2000) and Tony D (13th, 2001) have ever cashed in any WSOP No-Limit event. They were both in the $10,000 Championship.

What do all these statistics mean? Absolutely Nothing! Trust me, your dear granny would get crushed by this group. They all can play

The Final Table was setup when Don Barton couldn't get off a hand when he was raised by John Shipley. On second button, Barton bet out on the flop of J 10 9. Shipley on the button raised $100k. Don had A Q that gave him an up and down straight draw. Barton went all-in. Shipley called with trip Jacks. With two short stacks, Barton might have picked a better spot to make a stand.

But Don might have still been steaming from the beat the other Brit at the table had just given him. Julian Gardner could have been out of this tournament a couple of times. His wizardry is still working. Don Barton had Julian dominated all-in just prior to Barton's exit in 10th to John Shipley. Don had A K, Julian was all-in with A 10. No worries! When a 10 rips right off the deck, you know you can do magic.

This is how the final starts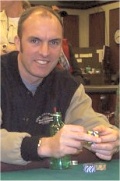 John Shipley in 1st

Julian Gardner in 7th

Final Table - Chips - Odds
John Shipley 2,033,000 (9/4)
Russell Rosenblum 927,000 (9/2)
Rafael Perry 766,000 (7/2)
Rob Varkonyi 640,000 (7/1)
Minh Ly 614,000 (6/1)
Scott Gray 545,000 (11/2)
Julian Gardner 394,000 (8/1)
Tony D 231,000 (9/1)
Harley Hall 161,000 (20/1)

see Seat allocations and Prize Money

---
Action from the Final

We hope to bring regular updates but some restrictions are in place on reporting - we'll do our best
Players are seated and playing.
We are in Level 17 with 3000 antes with 8000/16000 blinds
Gardner moves to 800k with Aces, Varkonyi down
Shipley in two pots with mixed results. More no show action.
2pm Harley gets it all in with an Ace, split pot with Shipley's Ace
Gray and Perry aggressive.
Ly (8,8) bets, raised Perry (A,K), Ly all-in. King on the flop - Ly 9th
Varkonyi (J,J) all-in, Shipley (A,K) call. No help for Shipley
Tony D. got low and all-in (A-Q), Gray call (Q,Q). Ace saves D.
Gardner and Varkonyi swap hands to no evail.
3:00pm - Level 18 4000 antes 12,000/24,000 blinds - 68,000 per round Short Break
Hall (A,9) all-in, call Perry (Q,7). Nine flops, Hall safe.
Tony D (K,K) doubles up thru Shipley
Hall all-in (5,5) stort stacked, Gardner calls (J,8) no help
4pm Several raise, re-raise hands with no callers.
Hall (A,J) all-in again after Perry (10,10) opens. Jack is 4th street
Its all very tight here and the low stacks keep winning hands
More no show hands and Shipley has lost half his stack.
Varkonyi (J,J) opens, Shipley (A,J) raise, Varkonyi all-in, Shipley calls 700K !? after long think. Case Jack on River.
5:00pm - Level 19 5000 antes 15,000/30,000 blinds - 75,000 per round
More raise - no callers hands
Short break - after its $5k chips and $25 chips
Tony D (Q,J) all-in short stacked, call Varkonyi (A,K). Nobody hits, Tony D is 8th.
6pm Shipley (7,7) all-in 300K, call Varkonyi (A,10). Ace is 4th street. Shipley 7th.
Rosenblum (J,6) bluff all-in, Gardner under pressure finds (A,A). Scary pair and diamonds on flop but Gardner doubles.
Rosenblum (A,8) all-in 100K, Gray (A,K) call. Cards fall A,K,x,K,x. Rosenblum 6th.
Hall (A,2) all-in, Gardner calls (K,7). Flop is blank then 7 and 7. Hall 5th.
7:00pm
Varkonyi (Q,T) 70K, all-in Gray (A,9) 300K. Flop Q,Q,8,x,x. Gray 4th.
Break

| | | |
| --- | --- | --- |
| Varkonyi | 5000k | |
| Gardner | 1300k | |
| Perry | 3rd | $550 |
| Gray | 4th | $281K |
| Hall | 5th | $195 |
| Rosenblum | 6th | $150 |
| Shipley | 7th | $120K |
| Tony D | 8th | $100K |
| Ly | 9th | $85K |
Gardner bets but Perry raises 200K. Varkonyi all-in. Gardner pass, Perry calls. Perry (J,J) and Varkonyi (A,A). Board is K,9,5,9,3. Rafael Perry 3rd.
Money and Diamond Bracelet are brought to the table
Small hand action and then exchanges of hands of raise fold
Both show they are playing well when they go to the River holding (Q,J) and the board is K,Q,6,4,5.
Level 20 - 10000 antes 20,000/40,000 blinds - 80,000 per round
Gardner loses 400K in a pot that goes to the river on a flush draw.
Then the final hand - Varkonyi 50K, call. Flop Q,4,4 (2 clubs). Varkonyi 50K, Gardner all-in, call. Gardner (Jc,8c) and Varkonyi (Q,T) his most succesful hand. The 4th street card is a 10 but the 5th street is a club, only its the 10 of clubs. Flush for gardner but HOUSE and the Championship to Robert Varkonyi.


1st Robert Varkonyi
$2,000,000
2nd Julian Gardner
$1,100,000
3rd Rafael Perry
$550,000
4th Scot Gray
$281,000
5th Harley Hall
$195,000
6th Russel Rosenblum
$150,000
7th John Shipley
$120,000
8th Tony D
$100,000
9th Minh Ly
$85,000


Pictures courtesy of Razzo from PokerWorld
Final Hand - Julian
Final Hand - Robert Varkonyi
$2m Cash and Varkonyi
Varkonyi shaves Phil's head

It was common knowledge that Phil Hellmuth declared he would shave his head if Robert won after he was taken out of the tournament by Robert with Queen - Ten. Robert won the final hand with Q-T and Phil's head was duly shaved. Many people took part including Becky Binion and Varkonyi himself.



Jesse May Reports - Day One - Day Two - Day Three - Day Four - Full Championship Money List
---