World Series Of Poker
2003 World Championship Report
LAS VEGAS
April 19th - May 23rd, 2003
---
Complete Result - Jesse May Reports - Pictures
Day One - Day Two - Day Three - Day Four - Last Hand
19 - 23rd May - $10,000 World Championship Event (No limit Holdem) -


Final Day
Before the start of this final it was clear that it could be like no other. Sure there was Harrington, the 1995 World Champion, and Jason Lester, a journeyman professional gambler of Backgammon then poker. But Benevenitsi got through via $125 satellite tournament which is big bucks compared to Chris Moneymaker (I kid you not) who made his first real world poker tournament debut via Pokerstars' $40 online qualifier!

Grey and Singer are good cash players, Farha quite a big cash player and Pak had some World Series tournament cashes. The difference here, apart from the lack of big names, was the dominant chip leader and probable favourite was the man who had qualified for $40. Anyway the final started with $10k-$20k blinds and $3k antes.


| | |
| --- | --- |
| Final Start Pos | Chips |
| Amir Vahedi | $1,407,000 |
| Tomer Benvisitsi | $922,000 |
| Sam Farha | $999,000 |
| Yung Pak | $360,000 |
| Jason Lester | $695,000 |
| Dan Harrington | $574,000 |
| David Grey | $338,000 |
| Chris Moneymaker | $2,344,000 |
| David Singer | $750,000 |
Promise of a ripping final was indicated when on hand 24, David Singer got aggressive with his A-10. Call by Vahedi. The flop showed Q-6-2 and Singer bet again, being called by Vahedi holding A-6 and therefore a pair of sixes. When the turn came an Ace he checked hoping to trap and was glad when Vahedi bet. He moved all in and Vahedi called instantly. The river did nothing so Vahedi had Aces and Sixes ahead of Singer's pair. Singer 9th.

Only 40 minutes later David Grey was out 8th. Both Vahedi and Moneymaker calling his all-in short stack and Moneymaker making two pair with 5-4 (a useful hand later). The promise of fire was on.


| | |
| --- | --- |
| At Diner, 7p.m | Chips |
| Amir Vahedi | $0.6 |
| Tomer Benvisitsi | $0.5 |
| Sam Farha | $2.0m |
| Jason Lester | $1.1 |
| Dan Harrington | $0.95 |
| Chris Moneymaker | $3.2m |
However it was slow from here on with Pak playing 4 hands in 4 hours. Farha was aggressive and no one was prepared to do serious battle. Coming up to 4 hours in and 7 o'clock Las Vegas time, Pak found Ace-Ten to go all-in for under $200k. Jason Lestor, the experienced gambler from New York, found an Ace-King to call with. The flop was delt swiftly, A-A-3-J-8 and Pak was out 7th.

Shortly after the dinner break, and finally, the two chip leaders Farha and Moneymaker got to grips with a pot. Farha opened before the flop and got called. They checked the flop but Moneymaker bet the turn only to be raised, which he called. An Ace hit the board on the end and Moneymaker bluffed with a substantial bet. Farha had an Ace an took the pot to go chip leader for the first time.


| | |
| --- | --- |
| Five left | Chips |
| Tomer Benvisitsi | $0.7m |
| Sam Farha | $3.6m |
| Jason Lester | $0.9 |
| Dan Harrington | $1m |
| Chris Moneymaker | $2m |
Soon after that Vahedi cracked after more than 6 hours of little action. He made a complete all-in bluff after the flop and Farha called with a pair. Farha now went bigger chip leader and there were 5 left in it.

Twenty minuts later after Harrington had opened with a bet, Benvenitsi moved all-in for his now pressurized stack of about half a million. Harrington passed but Moneymaker called. The world was slightly shocked to see him turn over Ace-Deuce. Had made a read on the guy or was he gambling? Benvenitsi had J-T and the Ace nailed him into fifth spot.



Jason Lester

With four people left and Jason Lester now the short stack he was glad to see Moneymaker open for a good bet. Jason bet a large portion of his chips as a raise holding the premium hand of Ace-Queen. Moneymaker called and we had a big pot on our hands.

When the flop turned up as T-9-8 Jason bet the rest of his chips which wasn't much but then he had no where else to go. Moneymaker called in a flash. After the 5th flop card Jason had to stand up as Moneymaker had flopped the absolute nuts with a Queen-Jack. Unlucky Jason Lester was 4th.



Dan Harrington

With three left, Moneymaker and Farha were equal with Harrington way behind with around $1m in chips. Harrington soon got all in with the worst hand against Moneymaker but his Ten paired the board and Moneymakers' Ace high was no good.. Harrington had doubled his chips.

From this point on though the final took on a new life. Suddenly Moneymaker began making moves all over the place, taking chips from both players. It was as though this man, who had never played a real tournament before, was the reincarnation of Stu Ungar, else how had he come to gain this ability?

When Moneymaker reached about $4.5m in chips, he met Harrington in a desperate situation. However the 1995 World Champion had hit the flop with middle pair and one to a flush, he had to call the big bet from Moneymaker holding top pair. Sadly for Dan the last two cards were blank and it was heads-up.

---
The Heads-up Battle

Sami Farha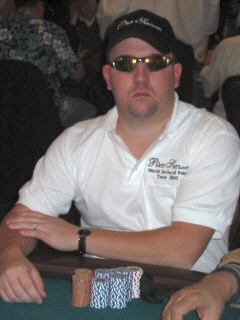 Chris Moneymaker

The heads up battle started with Chris Moneymaker in commanding lead with just under $6m and Sami Farha around the $2.4m figure. The blinds are 20,000-40,000 with antes of 5,000.

Chris is an internet poker player, never really playing tournaments in the real world. Sami is a high stakes Pot Limit Omaha specialist.

Amazingly during the break, Chris Moneymaker offers a deal to split the cash and play for the title. Farha turns it down, thinking the money is what will help him win the title!

Farha, normally a very aggressive heads-up cash player, lost his normal style and began to try and chip away at Moneymaker's stacks. He made some progress and then got involved on a flop of 2-6-9 (2 spades), betting 300k, only to be raised 800k which he called. The 4th card was 8 spades, check-check. The last card was a 3 and Chris bet all, which Sami passed on after a while.


| | |
| --- | --- |
| Final | Win |
| Chris Moneymaker | $2.5m |
| Sam Farha | $1.3m |
| Dan Harrington | $650k |
| Jason Lester | $440k |
| Tomer Benvisitsi | $320k |
| Amir Vahedi | $650k |
| Yung Pak | $200k |
| David Grey | $160k |
| David Singer | $120k |
Chris now near $7m, Sami near $1.4m chips.

With the blinds just called, the flop turns up J-5-4. Chris finds 5-4 in the hole and bets 175k. Sami is holding J-10 and bets out with all his chips, a bold move giving him no more options. Chris quickly calls. The 4th flop card came an 8 and the 5th flop card another 5, giving Chris a full house Fives over Fours beating Sami's two pair.

Chris Moneymaker, a qualifier from Pokerstars online cardroom, parleyed his small entry fee into $2,500,000 and the crown of Poker Champion of the World. Complete Result

Moneymaker, a father of a 3-month-old girl, was among 37 players sent to the tournament after paying $40 and qualifying at PokerStars.com. Dan Goldman, vice president of marketing for PokerStars.com, credited Moneymaker's win to his natural card sense and the experience he gained while playing online.

Chris also sold 20 percent stakes in his WSOP championship performance to his father and friend David Gamble (I kid you not for the second time) for $2,000 each, cash Moneymaker used to finance his Las Vegas trip. His father, Mike Moneymaker, and Gamble each stand to collect $½million (minus income tax which applies to gambling winnings in the USA) on their investment. The winner also pledged 1 percent of his win, $25,000, to cancer research.



Complete Result - Jesse May Reports - Pictures - Day One - Day Two - Day Three - Day Four
---