---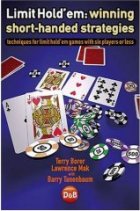 Limit Hold'em: Winning Short-handed Strategies - Techniques for Limit Hold'em Games with Six Players or Less
by Terry Borer, Lawrence Mak , Barry Tanenbaum

Full ring limit hold'em poker games (featuring 9 or 10 players) can be frustrating for the skilled player. You don't get to play many hands, you can't always exploit weak play and, facing many opponents, your good hands often don't stand up. What's the solution? Easy - play short-handed! Short-handed poker features a maximum of six players and often less.

These games are becoming increasingly popular and are great to play because: you get to play a lot more hands; you have more chances to exploit opponents' weaknesses; you get more opportunities to use all of your poker skills; and, short-handed play is quite different from full ring play and requires a different approach. This book analyses the necessary skills: attacking and defending blinds; watching and reading the opposition; being aware of your own image; and, playing with controlled aggression. Much of on-line limit hold'em play is moving towards the short-handed game. Make sure that you have the skills to compete in this form of the game, as it can be very profitable!



Paperback - 368 pages (30 Sep 2007)

£10.49

$16.47
---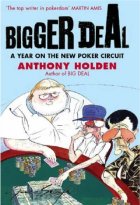 Bigger Deal: A Year on the New Poker Circuit
by Anthony Holden

If you are looking for one of the many technical manuals to improve your poker, this is not the book for you. However, if you are a keen poker player, but want something entertaining to read between games, this might be the one. You really need to have read 'Big Deal' written nearly 17 years before, when Holden first tried his hand as a poker professional. But even without that, this will still be an absorbing and amusing read.

In this enjoyable sequel, he revisits the poker world, playing in card rooms and tournaments in Europe and America, in home games in his native London and online during 2005 and 2006. The result is a rich account of how the game and its players have changed over the 17 years since he tried (and failed) to become a professional poker player. He profiles a range of people, from poker's living legend Doyle Brunson to the new breed of young professionals, schooled on the Internet and ruthlessly aggressive, and explores the reasons for poker's recent, unprecedented boom.
Go to the Anthony Holden page



Paperback - 352 pages (3 May 2007)

£12.59

$19.76
---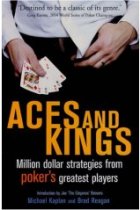 Aces and Kings
by Michael Kaplan, Brad Reagan

The book profiles the 15 most influential players - their origins, development and gambling style, and most importantly their winning moves. It begins with the legendary players from the West Texas school - Puggy Pearson, World Series of Poker winner Doyle Brunson, and Amarillo Slim - and ends with the new crop of players like Daniel Negreanu, who live in MTV-style 'cribs' and hold court with the likes of Leo DiCaprio. Plus Chris Moneymaker, Howard 'The Professor' Lederer and Chris 'Jesus' Ferguson, and many more.

This is a well structured look at what motivates a top poker pro, how they developed individual playing styles as well as the dedication and work required to make it to the top level of the game. Interwoven into the story of each player is a history lesson on how poker has evolved from the early 19th Century to the present day. Always entertaining, frank and honest. A classic in the making.



Paperback - 320 pages (23 Feb 2006)

£7.19

$10.17
---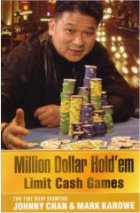 Million Dollar Hold'em
by Johnny Chan and Mark Karowe

"Million Dollar Hold'em Limit Cash Games" is destined to be a poker classic and is a must have book for the serious player looking to gain knowledge of limit cash games. The book offers practical lifestyle approaches; techniques and strategies to help make you a profitable cash game player and, perhaps, a wealthy player as well. The book is easy to read, written in a conversational tone, as if Chan is sitting next to you at the poker table giving you one-on-one advice and wisdom.

The book combines well-written narrative and lots of hand examples to help clarify the points he is trying to get across. What Dan Harrington's books do for the tournament player, Johnny Chan's book does for the limit cash game player. The book does not have an index, and it is not a book you would buy to improve your no-limit cash play as it is, as titled, a limit cash game text.



Paperback - 350 pages (Dec 2006)

£13.16

$19.77
---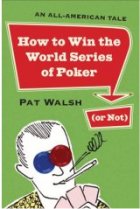 How to Win the World Series of Poker (or Not): An All-American Tale
by Pat Walsh

How to Win the World Series of Poker (or Not) chronicles the author's journey to play in poker's big leagues: the World Series of Poker. Pat Walsh begins by playing online poker for pennies at his kitchen table, continues his expedition with stops at church basements, a mansion, the back room of a bar, an Indian casino, and finally the hallowed poker rooms of Las Vegas (known among hobos and preachers as the Devil's Porch Light). On the road to triumph (or ruin), Pat lives out a dream he shares with millions of other players and fans—all the while trying to juggle his family life, his work, and his beloved gambling. How to Win the World Series of Poker (or Not) is a book about poker, but it is also a book about those all-American ideas of using a little bit of skill, a fair bit of guile, and an enormous amount of luck to grab the big win that will change your life. Or not.

Pat Walsh is one of the funniest writers in America. You don't have to be a poker player or wannabe to enjoy this great book on America's newest love affair--poker. The dialogue with his wife, convincing her they should invest $10k in the buy-in, is worth the price of this book alone.



Paperback - 160 pages (Jun 2006)

£6.14

$11.05
---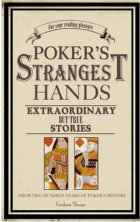 Poker's Strangest Hands
by Graham Sharpe

Romping through crooked games, dodgy players, exotic venues and incredible hands, "Poker's Strangest Moments" celebrates the strange history of Poker's most celebrated tournament, its World Championship event and the characters who have graced it with their presence, compiles some of the strangest things said about the game and fully records the details of the strangest Poker Year yet, 2006. The Poker world is divided between those who believe the game to be the most skilled contest ever devised, and those who believe that success in the game relies on pure luck.

Poker players spend half their time protesting that they play a game of skill and the other half complaining about the influence of luck. It's surprising, then, that this collection does not include a single example of a 'bad beat' story. Whatever your view, this book will appeal to the novice player who can barely tell his flops from his nuts, and equally to the connoisseur of the subtleties of Poker who has developed and matured his or her skills over many years.



Paperback - 256 pages (25 Jan 2007)

£7.19

No US copy
---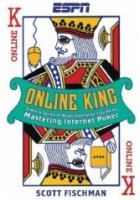 Online Ace: A World Series Poker Champion's Guide to Mastering Internet Poker
by Scott Fischman

Thsi is not a re-write or clone of everything else already out there. Although it is a niche book-addressing mostly online play- it is one of the best niche books I've read so far. Unlike many other poker books, Fischman's books teaches you how to "think" about the game in ways your opponents might not consider. There are more "nuggets" in this short text than many of the "cookie cutter" approach books coming down the pipeline.

His format and style are also very refreshing after so many rehashed "clone" type poker books. Although he doesn't provide a "hand chart" type book, his strategic ideas are worth their weight and he gives away much more in the way of "secrets" than many of the other high profile authors seem to be willing to. If you have not read a poker book prior to this one it will help your game. You will find it all very useful. It is a great book to make your first poker book, especially if you do not like maths.



Paperback - 256 pages (25 Feb 2007)

£8.44

$13.57
---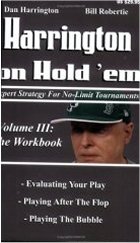 Harrington on Hold 'em: Expert Strategies for No Limit Tournaments: Workbook v. 3
by Dan Harrington

A very, very good book and unique (I think) in it's approach to teaching the reader. I have read both of the previous books in the trilogy and referred back to them on many occasions. They are practically the "Poker Bible". The beauty of the book is that you learn from your own mistakes rather than just reading the correct plays and thinking that you would have come to the same decision too. It will take around 7-10 hours of solid concentration and thinking to complete the 50 problems fully and accurately and you grade your answers at the end of each problem. I would definitely recommend this poker to any NLHE tournament player.

The format and layout is similar to the example problems given in Volumes I and II. This time, however, there is a marking scheme to allow you to assess your play. Refreshingly, examples are taken from both online and live play, and from both big and small buy-in events. Understand though, that this is tournment hold'em only. What we need now is a book this good on cash games!



Paperback - 352 pages (30 May 2006)

£13.71

$23.49
---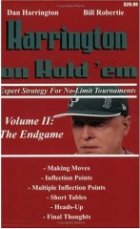 Harrington on Hold 'em: Expert Strategy for No Limit Tournaments: The Endgame Play v. 2
by Dan Harrington , Bill Robertie

This book follows on from the first book and teaches all the skills necessary to adapt your game when your stack gets small compared to the big blind. The later section on heads up is worth the price of both books on its own and is the only work on heads up play I have found worthy of reading. The key to both of these books which no other poker book covers is the art of betting - how much to bet and when. Its what separates the average poker player from the pros and up to now kept as a closely guarded secret.

Basically these two Harrington books make every other poker book redundant. If you want to learn the basics of texas holdem get the Matthew Hilger book. Learn and digest that and then get these two Harrington books and you will have everything you need to know to become a winning poker player.



Paperback - 450 pages (Jun 2005)

£13.97

$19.77
---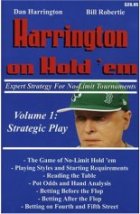 Harrington on Hold 'em: Expert Strategy for No Limit Tournaments: Strategic Play v. 1
by Dan Harrington , Bill Robertie

I have an extensive collection of poker books from the aggressive teachings of Doyle Brunsons Super System to the Mathmatical works of David Sklanskey. This is by far the best book in my humble opinion. Harrington takes you step by step through basic strategy and subtle plays. When to bet, where to gamble. How to maximise pay outs on big hands and how to minimise losses on marginal ones.

The text is non complicated and the diagrams easy on the eye. I still recommend reading other texts however this must be a priority study aid for No Limit Hold em. By FAR the best section, in my opinion, was the authors' discussion of when to call what you suspect might be an opponent's bluff. That's probably the situation that gives me the most trouble, but Harrington clearly and explicitly discusses the considerations that you should run through, including assigning specific probabilities to the possibility that you're facing a stone-cold bluff; it was utterly invaluable



Paperback - 385 pages (31 Dec 2004)

£11.55

$19.77
---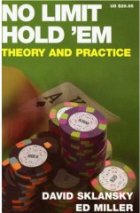 No Limit Hold 'em: Theory and Practice
by by David Sklansky, Ed Miller

Not for beginners at all, as there is no "play hand (x) like (y)", and quite dry too; but... Having played a few hundred thousand hands over the years, this is one of the few poker books that has added significantly to my game. The maths sections are amazing, there had been a few leaks in my game, where the sums are actually counter-intuitive, but that's the whole point of learning, no ?! From my library of about 15 poker books, this is the only one I'm going to re-read.

It's a straight forward read but not at all boring. It covers most if not all of the different aspects you need to master to become a great player. It's not a receipe book but an awareness book. In other words it doesn't tell you what to do but what to look for how to look for it. Then decision making just flows from there...



Paperback - 317 pages (30 May 2006)

£13.78

$23.48
---

Play Online Poker