---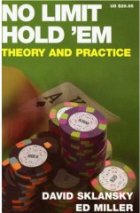 No Limit Hold 'em: Theory and Practice
by by David Sklansky, Ed Miller

Not for beginners at all, as there is no "play hand (x) like (y)", and quite dry too; but... Having played a few hundred thousand hands over the years, this is one of the few poker books that has added significantly to my game. The maths sections are amazing, there had been a few leaks in my game, where the sums are actually counter-intuitive, but that's the whole point of learning, no ?! From my library of about 15 poker books, this is the only one I'm going to re-read.

It's a straight forward read but not at all boring. It covers most if not all of the different aspects you need to master to become a great player. It's not a receipe book but an awareness book. In other words it doesn't tell you what to do but what to look for how to look for it. Then decision making just flows from there...



Paperback - 317 pages (30 May 2006)

£13.78

$23.48
---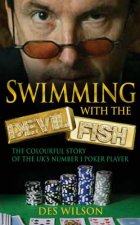 Swimming With the Devil Fish
by Des Wilson

Dave Ulliott has taken the poker world by storm. A world-class competitor, he is one of the most feared players on the ever-burgeoning global poker circuit. Tagged "The Devil Fish," Ulliott was a petty criminal at 16—a safe-cracker who spent his 21st birthday in prison. After becoming a pawnbroker, he turned his gambling hobby into a hugely lucrative career. Ulliott was the first British player to win a $500,000 poker tournament in the U.S., the first player to win the Late Night Poker series on Britain's Channel 4, and is now the face of Ultimatebet.com, one of poker's biggest online sites.

Swimming with the Devil Fish is an insider's account of the amazing world of professional poker, revealing, for the first time, the extraordinary stories of the world's top players. A must-read for anyone interested in the astonishing growth of professional poker, from yesterday's illegal back-street games to the television and cyberspace phenomenon of today.
Read the review by Anthony Holden (author of Big Deal)



Paperback - 352 pages (June 16, 2006)

£6.59

$12.97
---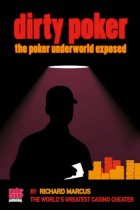 Dirty Poker: The Poker Underworld Exposed
by Richard Marcus

Cheating in poker is more common than people care to believe. In fact, it's rampant. Especially in major international tournaments, including the World Series of Poker in Las Vegas, not to mention regulated public card rooms. There are many ways to cheat, some subtle, some not so subtle. Richard Marcus knows them all. Ten years ago poker was a minority interest. The advent of online play has changed all that - poker is now big business. Millions of players play every day, both live and online. If you are one of them you will want to ensure that the games you play in are clean. This book will tell you how cheaters operate, what methods they use, and how to spot them.

Marcus focuses on cheating at poker. He makes a number of very strong allegations without offering much in the way of proof. For example, he starts out by stating (without naming her) that actress Jennifer Tilley won her first poker title by having everyone at the table collude in losing, with the prize money distributed equally. Did this really happen? Who knows? He then gets into cheating at home games, then live games at a casino. Some compelling stuff to think about when you are next playing!



Paperback - 256 pages (March 15, 2006)

£7.25

$17.95
---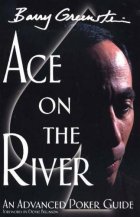 Ace on the River: An Advanced Poker Guide
by Barry Greenstein, Doyle Brunson (Foreword)

This is the first truly "advanced" guide aimed at improving your game. Written in an easy-to-read, bare bones conversational style and designed to help anyone interested in increasing their understanding of the game, this book is ideal for those new to the game or winning professionals. The fundamental philosophies presented go beyond the green felt and can be applied in all competitive ventures.

The unique you-make-the-call-play by play section will challenge the reader again and again. This is a review and guide to the world of high-stakes poker as seen by one of the most well-known and well-respected players of all time. From the beginning of 2003 until the middle of 2004, Barry Greenstein won seven poker tournaments and came in second five times, including winning a World Poker Tour event and a World Series of Poker bracelet.



Paperback - 316 pages (June 1, 2005)

£11.87

$16.50
---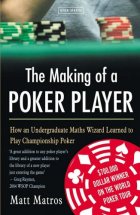 The Making Of A Poker Player
by Matt Matros

Poker has been Matt Matros's passion since he was fifteen, playing dealer's choice for plastic chips with his friends on a Friday night. But Matt always had his eyes on bigger stakes. He wanted to be a pro. And in April 2004, at the age of 26, Matt scored his biggest win to date, finishing third in the World Poker Tour Championship and netting more than $700,000.

The Making of a Poker Player is a strategy book drawn from Matt's gripping journey into the poker world - from those high school games to his first casino card rooms and on to major tournaments where he played against, and defeated, the greatest poker champions around. You'll experience the game through the eyes of one of its top players, from the Saturday morning tournaments that were more motivating than his math classes, as he picks off a bluff by world champion Phil Hellmuth in Las Vegas, and as he suffers through a prolonged losing streak that wipes out months of hard work and profit - only to turn around and recoup every penny.

Matt Matros's vivid storytelling, nail-biting play-by-play recaps, and insider anecdotes capture all the excitement of the game and its subculture.



Paperback - 304 pages (September 23, 2005)

£6.59

$10.17
---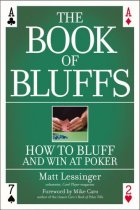 Beginners Guide to Limit Hold'em
by Matt Lessinger

Lessinger reveals how, with the correct timing and artistry, bluffing will allow a player to win while holding an inferior hand--the very essence of poker. A Poker book that is not "Just another Poker Book". This book to any Professional Poker Player is worth a whole lot more than one stack of high society ($1000 chips). An absolute joy to read, no mind numbingly boring text or matematics or mathematics.

You've been looking for a book like this since you learned to play poker those years ago. It teaches all the tricks of bluffing and how to watch for the best opportunities for maximum success. It starts by teaching the basic strategies and builds up to more complex bluffing situations.



Paperback - 230 pages (October 2005)

£7.05

$10.46
---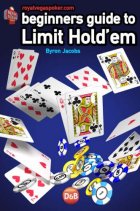 Beginners Guide to Limit Hold'em
by Byron Jacobs

Five years ago Internet Poker barely existed. Now, a poker revolution has occurred and at any given moment tens of thousands of players are playing poker for real money from their own homes. There are many variants of Poker but Limit Hold'em is the game. Approximately 75 per cent of on-line players are playing Limit Hold'em.

If you want to join them, then this is the book for you. Most people have a rough idea how to play poker, but this book assumes no prior knowledge and builds from the absolute basics. Experienced author and successful on-line poker player Byron Jacobs provides newcomers to the game with a thorough grounding in the rules and the basic principles.



Paperback -192 pages (December 8, 2005)

£9.09

$13.57
---