---
Date : 25th June 2015
Match Preview –
Copa America Quarter-Finals, Wednesday 24th to Friday 27th June 2015
With a dramatic first quarter-final seeing Chile beat Uruguay to reach the final 4, the remaining 6 teams will battle it out for a place in the Copa American semi-finals across the end of the week!

A late goal from Mauricio Isla, the only one of the match, capped off a tense game that saw Uruguay reduced to 9 men and Chile reach the final 4 for the first time since they lost, ironically, to Uruguay on penalties in their Copa America '99 semi-final. An aggressiveness that ran rampant throughout the game led to a controversial second yellow for Edison Cavani after he 'touched' Gonzalo Jara's face, before Jorge Fucile left the field 6 minutes after Isla's goal and only a few minutes before the final whistle.

This means the Chileans will face either Bolivia or Peru in the semi-finals, dependant on who wins Thursday night's game. Bolivia only just scraped through the easiest of the 3 groups, coming second behind Chile on 4 points, just ahead of Ecuador on 3 and Mexico on 2. A 0-0 draw against a weakened Mexico side wasn't a promising start to the tournament for La Verde, but a 3-2 win over Ecuador was a bit livelier, even if Bolivia did put their 3-0 lead in jeopardy in the second half.

Worryingly for Bolivia, however, they suffered a heavy defeat to their potential semi-final opponents Chile, who beat them 5-0 to top Group A, a humiliation completed with an 85th minute own goal by their captain Ronald Raldes (and, incidentally, making Chile the only side in the group stages to score over 4 goals in total). This has left Bolivia on a Copa America Index spread of 13-16, one of the worst of the teams left in the competition.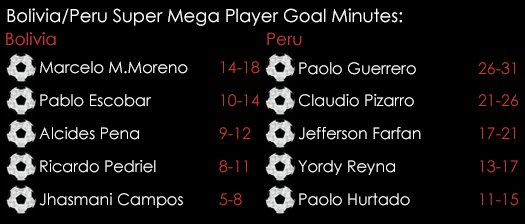 Peru also finished 2nd in their group on 4 points, but faced much tougher competition in the process, leaving them with a Copa American Index spread of 17-20. An opening game loss to Brazil was to be expected, but was frustrating for Peru; they had taken the lead in the 2nd minute, only for Cristian Cueva's goal to be equalled in the 4th minute by Neymar. An injury time winner from Douglas Costa cemented Peru's first game fate, and left them with a difficult task in their final 2 games group games.

A goal from Bayern Munich veteran Claudio Pizarro sealed a victory over Venezuela, before a tight 0-0 draw against Colombia saw them 2nd in the group over Los Cafeteros on amount of goals scored (shockingly Peru's 2 goals overcame Colombia's dismal 1). Given their escape from a difficult group, and the fact they came 3rd in 2011's tournament (even if most of the bigger sides had disappeared by the semis) means Los Incas have the advantage at a Peru/Bolivia Goal Supremacy spread of 0.5-0.7 with a Total Goals spread of 2-2.2.

Friday then sees the pick of the quarter-finals, as tournament favourites Argentina take on fan favourites Colombia. With the pressure on, Argentina almost fluffed their lines in their opening game against Paraguay, with a 2-0 first half lead being lost in the second half, as a 89th minute goal from Lucas Barrios added to Valdez's goal half an hour earlier to see the points shared.

Despite their manager being sent off in the first half, Argentina dispatched of Uruguay 1-0, with a second tournament goal from Sergio Aguero, before an early strike from Gonzalo Higuain secured a win against Jamaica. Hardly exciting stuff but enough to see the Argies top the group, putting them at a Copa America Index spread of 26-29, second only to Chile's 27.5-30.5 (who of course have the advantage of already being in the semis), and at 9/4 fixed odds to win the whole thing.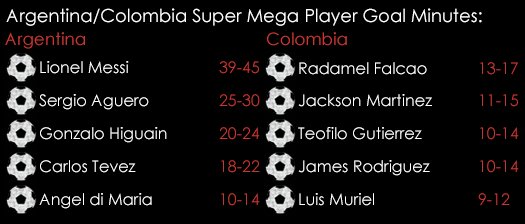 Annoyingly for Argentina, topping the group wasn't enough to avoid a tough quarter-final draw, as Colombia's surprising inability to secure 2nd place saw them enter the knockout stages as one of the two top 3rd place sides along with Uruguay. Considered by many one of the favourites for the tournament, Colombia limply lost their opening game to Venezuela, before beating Brazil 1-0 in a game that saw Neymar and Carlos Bacca sent off after the final whistle.

A final 0-0 draw against Peru left them 3rd in Group C after only scoring 1 goal in their first 3 games; considering this is a side that contains World Cup Golden Boot James Rodriguez and the sporadically brilliant Falcao, their lack of goals in a tournament that has been light on them as a whole is very disappointing. This has left Colombia with a Copa America Index spread of 15.5-18.5, and going into the quarters Los Gauchos have the advantage at a narrow Argentina/Colombia Goal Supremacy spread of 0.55-0.75.

The final quarter-final takes place on Saturday, and will likely result in a very tasty semi-final as Brazil and Paraguay battle it out for a place in the final 4. Perennial favourites Brazil topped their group but not in the style they are used to, with a loss to Colombia leaving them with 6 points from 2-1 victories against both Peru and Venezuela, the former win being a lot more difficult than the score-line suggests.

Brazil will be without their captain Neymar after his aforementioned red card against Colombia, and could suffer for his absence, even if they did manage to overturn Venezuela without the Barcelona striker. The Canarinho at a Copa America Index spread of 22.5-25.5, behind Chile and Argentina, and are a 4/1 fixed odds to lift the cup.



Paraguay performed admirably in a difficult group, finishing in 2nd ahead of the Uruguayan side they lost the final to back in 2011; however, their knockout stage opponents has left Paraguay with the worst Copa America Index spread of those left, at 12-15. Yet La Albirroja have proved their mettle in the tournament so far; an opening game draw against a Messi-led Argentina set out Paraguay's intentions, even if they did leave if late in the game to get their share of the points.

A narrow win against tournament debutantes Jamaica (the only side in the group stages to finish on 0 points) left a quarter-final place in sight, and a 1-1 draw against Uruguay left then in 2nd place on 5 points to the 2011 champions' 4. However, with or without Neymar Brazil are an imposing threat, and they have the advantage at a Brazil/Paraguay Goal Supremacy spread of 0.65-0.85 with a Total Goals spread of 2.25-2.45.

With live coverage on Sky Sports, Spreadex will be offering a comprehensive in-running service across spread markets and fixed odds so settle in for what should be a great time!

---