Ladbrokes Paddington Casino and Sports Bar (2006)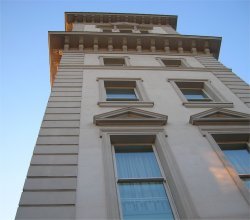 Above the Entrance of the Ladbrokes Paddington Casino and Sports Bar


Closed 11th November 2009

The new Ladbrokes Casino & Sports Bar opened on the 18th July 2006.

Situated at one corner of the new Paddington Hilton Hotel (used to be the Great Western Hotel which had run dowm quite a bit) and officially listed as; 1 Eastbourne Terrace London W2 1BA. The main entrance is situated at the corner of Praed Street and Eastbourne Terrace. There is also an entrance directly from the Paddington Hilton hotel lobby

A central location gives Ladbrokes its first foray back into the land based casino business since it bought Stakis Casinos in the 1990s, subsequently selling them on to Gala in an ill-timed move in 2000. In the first open attempt to marry a bookmaker and a casino under one roof in Great Britain Ladbrokes are claiming a lot for their new baby.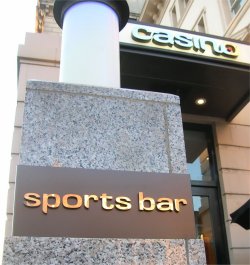 Inside the style is clearly defined as modern British. The floor is covered in black marble tiles, the decor sharp contrasting colours and the staff tailored in suits with black open necked shirts. This is not a leap forward in casino design but a polished version of the good old London gambling club.

The major part of this venture is on one underground floor in a large "L" shaped configuration. You enter the main entrance and walk down into the long bar where there is copious seating and an area to watch a choice of TV screens offering sports channels.

Through the bar you enter the main gaming area, roulette in the centre of the casino and to the left, more roulette with blackjack and casino poker. Both the bar seating area and the roulette section both lead through arched cellar like walk-throughs into the sleekly styled restaurant.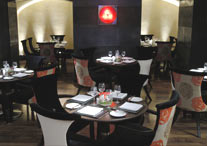 The menu selection is designed to suit the international hotel patron who has wandered down from their room. Appetisers the like of Grilled Scallops on Black Pudding Mash are away from the normal casino fare and to me (GGG Editor) a welcome change. Aim high at least.

Private alcoves allow for secluded dining in groups or the chance to savour one of their cocktail creations, the Black Lychee (A new and delicious version of Champagne and Fruit-Lychee, Blackberries, Champagne and something else?)

Beyond the restaurant there a large number of roulette terminals. Some are linked to a mechanical roulette wheel which automatically spins once a minute and seems quite popular. There are also terminals linked to the two main live roulette games.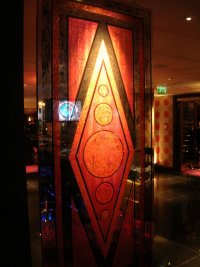 In the roulette terminal area you will find another unusual feature for a British Casino, that being a second entrance/exit which leads directly up into the Paddington Hilton Hotel foyer. This foyer leads backwards onto the Paddington Station main hall so that it is possible to walk directly from your train into a casino. A novelty which may or may not catch on.

Beyond the terminals there is the cash desk, another bar and further still a second seating area with TV screens and an alcove for private drinking.

Returning back through the casino and up the stairs to the reception brings customers to what Ladbrokes are calling their Sports Bar. This may signal to the reader something of the Las Vegas style Sports Book where punters can bet on sports events nation and world wide. This could not be further from the truth. Unfortunately the still and continuing antiquated British law does not allow for the integration of gambling choices such as Bookmaking and Casinos. The sports bar is thus an upstairs room with windows onto to the street, containing TV screens, slot machines, a bar and more roulette terminals connected to the live games downstairs. If you want a drink whilst touching a terminal screen and you need a bit of daylight (or you are claustrophobic like me) then this will supply your needs. It is however less than sleek.

The styling of this subterranean casino seems to work. The clientelle are a mix of asian and middle eastern with the added flow of hotel guests and local Londoners. As of August 14th 2006 it is not overly busy which is fine as the air conditioning struggles to cope with all the heat that the machinery delivers to the air. Some places its hot and others too cold. I am sure they will to get to grips with it but this is again a problem which haunts British casinos with low ceilings.

I am prepared to give this new venture the benefit of a few changes and award them 7/10. Those who want an American style casino will be unimpressed but as an old fashioned club with modern styling and attractive staff, this will do. Score an extra half of one point for complementary drinks (like beer) for all those people playing, even a small punter playing one of the machines. (So 7½/10 for as long as it lasts)

On a seperate note, there is no Texas Holdem Poker being played, only casino poker.

Nearest Tube: Paddington Station
1 Eastbourne Terrace London W2 1BA


The Long Bar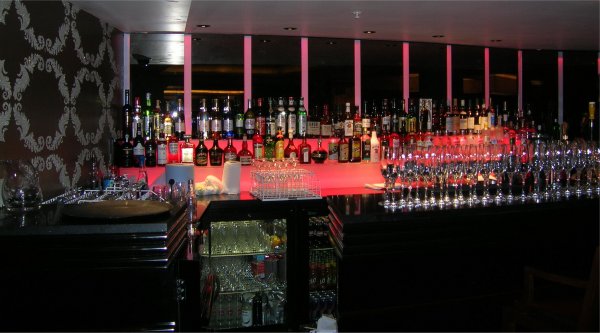 About Ladbrokes
Ladbrokes was first established in 1886 taking wagers in the Gentleman's clubs of London. Today Ladbrokes is the world's leading retail bookmaker, taking over 350 million bets a year at over 2,500 high street betting shops in the UK, Ireland and Belgium and outlets at 47 leading football clubs and 11 horseracing tracks. Online, Ladbrokes.com has over 2 million registered customers from over 200 countries betting in 12 languages using 18 currencies.

---
---