---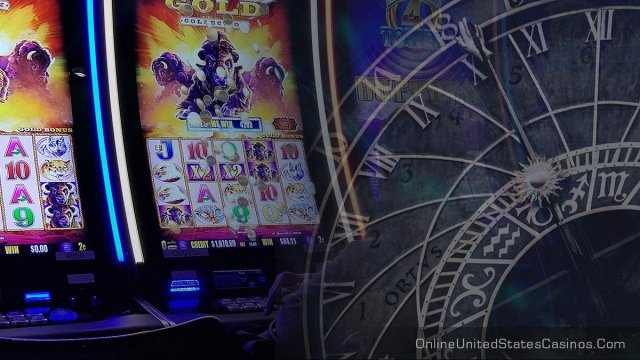 Slots are the golden geese of the gaming industry due to their enormous win potential and simple gameplay. That said, no matter how straightforward a game is, if there is something on the line, human ingenuity takes over, and people figure out a way to get an edge. The same applies to slots.

While some players focus on tracking down titles featuring the best specifications possible, a high return-to-player, and low volatility, others are busy pinpointing the best time of day to spin.

Very Important! This article will make a clear distinction between land-based casino machines and online real money slots, as the time strategy is different for each.

Best Time of Day to Play Slots in a Casino

One of the biggest myths that proliferated Vegas casino floors in the 1970s and 1980s, which has remained alive to this day, is that slot machines are due for a win. If you play them long enough, they have to payout. Meaning that if a specific game eats up a ton of coins, it has to give some back, eventually.

Therefore, most Vegas gamblers believed that the best time of day to play slots was at night when casino floor foot traffic is high. If a larger number of people are spinning, then the machines are more active and due to cash out soon.

Now, in theory, this is true because each game features a specific payout percentage (RTP), so per its programming, it has to provide a win at some point in time. If a title has an RTP of 96%, that means that it has to pay back 96% of all bets over time. The last two words are crucial here, as overtime means over millions of spins. Short-term, anything can happen, as each spin is as random as the next one making this concept only applicable in the long-haul, longer than any human can sit in a chair and pull a lever or press a button.

In theory, players stand a slightly bigger chance of landing a winning combo when there is increased gaming activity, which is usually at night.

Determining the best time of day to spin reels should not only depend on your probability of landing a win. Every player, going by his sensibilities, should also consider other factors.

Proper bankroll management is an essential one. Players may be more attentive to their funds with fewer distractions around. Spinning during the morning may be a better choice for those who fear that a lively-casino atmosphere may affect them, leading them to play longer than they should. Peer pressure could also affect some spinners in overstepping their means.

Best Time for Online Casinos

Online slots use the same random number generators that land-based machines do to produce their spins' results. The sole purpose of these algorithms is to spit out random numbers at all times. They do this by taking one number called a seed and running it through complex mathematical operations, which create a new number. Then they do the same to this newly generated number, and the process goes on.

Technically, since this software utilizes a preprogrammed mathematical operation, it's not random, which is why they are also called pseudo-random number generators. Now, all online slots also feature return-to-player percentages, but since they exist in the digital sphere, you cannot possibly know how many people are playing at a specific time. Some estimates claim that the peak attendance of gaming sites is from 20:00 to 02:00 hours.

However, you have to factor in time-zones, players from what region most play the game, and so on. Thus, it is of no use to figure out when is the best time to spin digital reels. Do so when you have free time, are in a good state of mind, and have an adequate budget to engage in this activity.

When it comes to timing and online slots, one piece of advice that we can provide is to play progressive titles when the jackpot is substantial. Since your chances of landing the top prize on games such as Mega Moolah or Wheel of Wishes is astronomical, you should play them when you stand to win the biggest prize. If you are already taking risks spinning their reels, why not go for gold?

Mega Moolah, on average, pays out a massive prize every ten weeks or so. Note that we say average, as this timeframe differs from year to year, and we only mention it to illustrate a point that you should wait a while after someone else has snagged a life-altering amount before making attempts at one.

Vegas

Vegas casinos are busiest during three-day holiday weekends. Christmas and New Year are usually when the Strip is most buzzing. If you want to locate a time when people are swarming casino floors, go to Vegas at the end of the year, or visit a casino that's hosting a massive fight, like the MGM Grand or the Mandalay Bay. These resorts have arenas that host big boxing and MMA events, and they draw big crowds at fight night. Before 22:00 and after 01:00 is when the casino floors should be busiest.

New Jersey

Most Atlantic City Casinos are virtually empty during the early morning if you want to play in peace. You can also calmly gamble after 03:00, and drink service should be excellent after this hour, as most of the casino floor should be clear. If you want to play at a time when slots are running hot, aim to visit AC over a weekend or holiday, and spin reels after 21:00. Casinos on the Boardwalk and Brigantine Boulevard should be busiest then.

Macau

Most large Macau casinos operate 24 hours a day. However, some smaller ones, such as the Kingsway Hotel & Casino and the Grand Lapa Hotel, work from 12:00 – 04:00. There are even some that work from 11:00 – 23:00. So, gambling in the morning is not an option at all venues. You may know that Macau is the gambling mecca of the world, pulling in annual gaming revenues of over $36 billion.

However, most of that money comes from high-roller baccarat players and not slot connoisseurs. There is decent foot traffic during late afternoons in Macau casinos, but like all places, it gets busiest at night, so that may be the best time to sit at a machine.

In Conclusion

Factoring in the most appropriate time of the day to play slots will do little to improve your chances of landing a winning symbol combo. Due to modern random number generators, the practice of setting a precise time to gamble is close to superstition at this point. You should be more worried about things like when you are most clear-headed and less likely to blow more cash than you can afford.

While some theoretical probabilities say that specific periods may provide better win percentages, remember that this only applies to vast periods. Short-term anything is possible, and you should have that mindset when spinning. The best time to play is when you feel lucky. Then you should play to find out if you are in lady luck's good graces.