| | | |
| --- | --- | --- |
| | Welcome to the News desk. | |

| | |
| --- | --- |
| Full Tilt Poker shut down by Alderney regulators | 30/06/2011 |

Richard Whitehouse
Alderney regulators suspend Full Tilt's licence
Full Tilt fails to repay US players
Phil Ivey boycotts World Series Of Poker

Gambling regulators on the Channel Island of Alderney yesterday suspended the gambling license of Full Tilt Poker, halting the company's online poker games and intensifying its legal problems in the U.S.

The Alderney commission said its internal investigation showed that Full Tilt employees and associates operated contrary to its gambling laws. It set a hearing on the matter for July 26 in London.

"The decision to suspend the eGambling license was in the public interest and, because of the seriousness and urgency of the matter, it required that immediate action be taken ahead of the regulatory hearing," said Andre Wilsenach, the commission's executive director.

Regulators from the island of Alderney visited the Dublin offices of Pocket Kings Ltd., Full Tilt's software arm, and advised employees there that the licenses for a series of affiliated companies in Alderney had been suspended. The regulators demanded that Pocket Kings stop providing software support, maintenance, marketing or other services to Full Tilt.

The shutdown comes as Full Tilt is courting potential investors and lenders in an effort to raise funding to pay back online poker players it owes money, according to two people with knowledge of the situation. Alderney regulators previously had told Full Tilt executives they were concerned the company hadn't paid back $150 million owed to poker players in the U.S. and were conducting an investigation into the funds. Company officials were surprised by the shutdown because they believed they would instead be given a warning.

Full Tilt has sparked animosity among online poker players because, unlike PokerStars, it hasn't paid back U.S. players who had money in company-held accounts since the Justice Department stopped the site from taking bets in the U.S.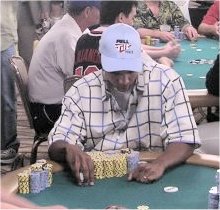 Phil Ivey at the WSOP

Phil Ivey, one of poker's biggest superstars, says he skipped the World Series of Poker because he was disappointed and embarrassed that his sponsor, Full Tilt Poker, hasn't paid back player deposits after pulling out of the U.S. market.

PokerScout, a website that tracks online poker traffic worldwide, showed zero users playing on Full Tilt for real money Wednesday 29th June, down from an average of 9,000 at any given moment during the past week.

"There's a lot of anger out there," said PokerScout owner Dan Stewart. "I think a lot of that comes from the uncertainty of having your money locked up for an indefinite period of time with no guarantee you're going to see it again."

In another move, producers of The Poker Lounge, the Full Tilt-sponsored television show, have abandoned plans to resume filming after the indicted operator failed to honour its payments.

While it was thought the decision might have been taken in response to the decision of the Alderney Gambling Control Commission to suspend Full Tilt's licences in the jurisdiction, a spokeswoman revealed a non-payment of funds prompted the decision.

Full Tilt is hoping a cash infusion can help it pay back the players, according to people with knowledge of the situation. One possible backer is Jack Binion, a former casino executive and member of a well-known Las Vegas casino family. He has drawn up term sheets to provide a series of bridge loans, an investment or other financing.

The Alderney commission's move prompted gambling regulators in the Isle of Man to reaffirm the licensing status of PokerStars, the world's largest online poker site that has faced the same legal trouble as Full Tilt.

"PokerStars continues to demonstrate compliance with its license conditions in the Isle of Man," the Isle of Man Gambling Supervision Commission said in a statement. "PokerStars continues to offer withdrawals to any players who wish to withdraw their funds, including players in the USA to whom PokerStars does not currently offer real-money gaming.".

While certain types of Internet gambling has been illegal in the United States since 2006, online poker remains a multi-billion dollar industry with companies using a variety of ways to flout the law, including locating their operations offshore.

The effective US ban on Internet gambling has been challenged as an unfair trade restriction at the World Trade Organization a number of times with no response from the US State Department.