| | | |
| --- | --- | --- |
| | Welcome to the News desk. | |

| | |
| --- | --- |
| Bellagio Biker Bandit charged on second robbery | 13/05/2011 |

Richard Whitehouse
Son of a Las Vegas judge, Anthony M. Carleo, charged on second casino heist

For a month after allegedly robbing the Bellagio Casino, Las Vegas, of $1.5 million in chips, Anthony M. Carleo spent the small denomination chips on partying, drink and drugs. He was then left with a problem. What to do with all those Cranberry chips, the ones worth $25,000 each?

His answer was to join the popular forum, TwoPlusTwo.com, where people converse over many poker topics, including 'who was the Biker Bandit'. In his unsettled mental state it seemed reasonable to him to change his moniker to Cranberrykid25 and engage in forum discussions about who the Biker Bandit was. Matthew Brooks, a 29-year-old management consultant from Washington, D.C., was targeted by Carleo as a potential 'whale' and offered his telephone number in an email exchange. Brooks himself had garnered attention by speculating online as to whether there was a secondary market for the missing chips from the Bellagio. Brooks, curious, called Carleo for detailed discussion.

What happened next was to land Carleo in trouble with the FBI. Thinking wrongly that Brooks was a big time poker player, Carleo offered him Cranberry chips at 20 cents on the dollar. Gradually realising that the anxious voice on the other end of the line could well be the Biker Bandit himself, Brooks pressed on.

"I just asked him point blank, 'Did you just happen to come by these chips or is this your deal? Did you do this?'?" Brooks said. "He said, 'Oh, that was me. I'm that guy.'"

For the next 20 minutes, Brooks tried to build a rapport with Carleo over the phone. Brooks said Carleo asked him if he wanted to see a picture of the chips. Before he knew it, Brooks had been e-mailed eight images of two $25,000 Bellagio chips. The chips were placed in different positions on a sheet of loose leaf paper as if Carleo was modeling them in a photo shoot.

One picture had a handwritten message from Carleo: "To Provotrout: Good Luck My Friend …" and signed it "Biker Bandit 1/26/11." (Provotrout was Brooks' moniker)

"At that point, I was just about positive it was the guy," Brooks said.

He wasted no time. Working with a co-worker, Brooks was able to trace Carleo's computer IP address to a location in Summerlin. He e-mailed Metro Police and the FBI with the information, but with no immediate response, he sent all of the correspondence and information to Bellagio security. Metro called him that night and he gave a statement.

Carleo, though, was not perturbed by this fruitless encounter and returned several times to the scene of the crime before his luck finally ran out on Wednesday, 2nd February, 2011.

"He likes to gamble," Las Vegas police Lt. Ray Steiber said as he described for reporters how Anthony M. Carleo, 29, the son of a Las Vegas judge, was nabbed late Wednesday on the same casino floor at the Bellagio resort.

Police recovered $900,000 in chips, and can account for $1.2 million, Steiber said. He said police were still looking for the black Suzuki GSXR they say Carleo used to make his getaway in the pre-dawn hours of Dec. 14.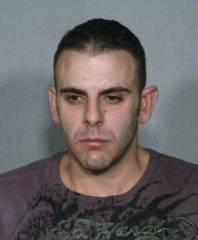 Police photo of Anthony M. Carleo


Chips are unique to casino properties and are generally not interchangeable, although state regulations let casino companies redeem sister properties' chips with some restrictions. After the heist, the Bellagio announced plans to discontinue the casino's $25,000 chips in April, setting a deadline for the thief to try to use them. Police have not said whether Carleo tried to redeem the chips — which ranged from $100 to $25,000 — before his arrest.

Prosecutors believed that the Bellagio robbery of December 14, 2010 was linked to the Suncoast Casino robbery on Thursday December 9, 2010. Just days before the Bellagio robbery, Carleo allegedly hit the Suncoast Hotel and Casino at 12:30 am.

The Suncoast at the time was hosting a poker tournament. Police claim Carleo drove up his motorcycle to the Suncoast, parked it near the valet station, walked into the casino, approached the cage handling the tournament's chips, and got out with his loot. In both robberies the suspect was wearing a silver motorcycle helmet and dark clothing.

After months of investigations, prosecutors today (12th May) charged Carleo with the 2010 robbery of the second hotel.