| | | |
| --- | --- | --- |
| | Welcome to the News desk. | |

| | |
| --- | --- |
| I'll never own horses in Britain again, says Harry Findlay after ban | 11/06/2010 |

Chris Cook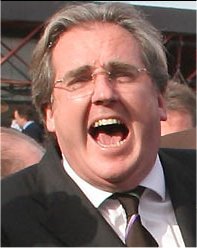 A mortified Harry Findlay said today that he was unlikely to own racehorses in Britain again, after he was given a six-month ban for laying one of his own horses through Betfair. The gambler, made famous by his ownership of the Cheltenham Gold Cup winner Denman, will appeal against the decision and may have a chance to put his case as early as next week, but even a complete success at that stage may not be enough to repair his enthusiasm for the sport.

"Win or lose the appeal, I will never own horses in Britain again," Findlay said, visibly upset during a televised statement that was the only formal comment he would offer yesterday. "I'm not going to shout and scream at anyone. I'm a heartbroken man."

Findlay had admitted the facts of the case long before Wednesday's three-hour hearing before an independent disciplinary panel convened by the British Horseracing Authority.

He made no attempt to deny that he had taken lay bets on his own horse, Gullible Gordon, when it ran at Chepstow in October last year, and even drew the BHA's attention to the fact that he had done something similar when it had raced at Exeter the year before.

But Findlay was not trying to profit from the defeat of his horse on either occasion. As the BHA accepted, he also backed the horse to win both races, staking much larger amounts than he would win from the lay bets. The horse won at Chepstow, making Findlay a profit of £35,000, but cost him £62,000 by getting beaten at Exeter.

Findlay explained that he had not intended to lay the horse at Exeter, but that his friend, Glen Gill, who often places bets for him, had clicked the wrong button on Betfair's website. That tallies with the timing of the lay bets, which came shortly before Findlay's back bets on the same animal, and the BHA accepted a mistake had been made.

With regard to the Chepstow race, Findlay said Gill had been laying off during the race, when it was clear that Gullible Gordon was very likely to win and it was possible to protect Findlay's position at much shorter odds than he had taken before the race. Again, the BHA accepted that this had been his motivation.

The BHA's lawyer told the panel that the appropriate punishment would be a low-level fine, which would have been in line with the £750 levied in a similar case in 2007. But the panel did not accept this and ruled that a ban of some kind was required, albeit one well below the entry point of 18 months associated with such a breach. The panel seized on Findlay's admission that he had planned to have a larger bet than he normally would on the Chepstow race, with the aim of laying off after the start. He did this on the basis of inside information, knowing the horse would be sent straight to the front and expecting he would soon establish a clear lead.

"This is not, therefore, to be seen as a 'technical' breach," the panel said, and ruled that a six-month ban was appropriate, even though it accepted Findlay had been open and honest with investigators. The panel also accepted that Gullible Gordon was allowed to run on his merits in both races.

Betfair, which has done much to tackle corruption in racing, condemned the panel. "We do not believe the punishment to be proportionate or consistent with similar offences in the past. We will continue to welcome Harry as a customer," a spokesman said.

The BHA's only comment was to say that an appeals panel would be arranged as quickly as possible, perhaps within the next seven days. Privately, some BHA insiders are likely to be shocked, having assumed that Findlay would get no more than a fine.

Mick Channon, the former England striker who now trains racehorses, said the BHA had brought the sport into disrepute. "It's just crazy, but typical of horse racing," he said. "Harry's what everybody wants to be. He's done nothing wrong in my eyes."

Galtymore Lad, trained by Channon for Findlay, will be transferred into Channon's ownership before he runs at Royal Ascot on Tuesday.