| | | |
| --- | --- | --- |
| | Welcome to the News desk. | |

| | |
| --- | --- |
| Bookies reveal racing is holding its own in World Cup betting battle | 24/06/2010 |

Chris Cook at Salisbury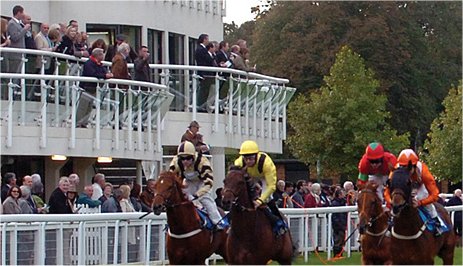 Racing received some surprising and welcome news yesterday when two major bookmakers revealed that betting on the sport has remained robust through the early stages of the World Cup, in spite of fears that hard-up punters would restrict themselves to the football.

Ladbrokes and Totesport confirmed that interest in the action at Royal Ascot last week had actually increased in parts of their business and offered the hope that racing might end up gaining from new customers being introduced to gambling through football.

"It's been encouraging so far," said George Primarolo, the spokesman for Totesport. "During Royal Ascot, our turnover on racing was up on last year, by about 4% on phones and internet and less in the shops. And that flies in the face of any fears racing had that it might be driven down by having to compete."

Great concern was expressed at the start of this month when, in the days running up to the Derby, many betting shops used their windows to promote the World Cup rather than the premier Classic. Powerful figures in racing feared that bookmakers were trying to divert their customers to other sports, which would have the effect of reducing the levy that firms pay on their profits from racing.

"But if that attracts people who don't normally go into betting shops, then those people may end up having a bet on the races," Primarolo argued. "So I don't think it's necessarily a bad thing.

"There's still a stigma attached to betting shops for many people but that's not the case any more and there are some quite nice shops around. If new people come in and enjoy the experience, they'll hopefully come back."

That sentiment was echoed by David Williams of Ladbrokes, who said: "The whole idea of a World Cup is that it brings in brand new customers and if they come in to bet on Slovenia, they may end up betting on Goodwood as well. It's tricky to say that football's taking turnover from racing, because football's boom may end up being racing's boom – but not yet."

Williams said that Ladbrokes betting shops had suffered a 10% drop in Royal Ascot turnover, but that was offset by a 25% increase in business done over the phones and on the internet, reflecting a change in punters' habits.

The attendance here yesterday took a hit as many opted to watch England's game against Slovenia elsewhere, with just over 2,000 people coming through the gates, down by almost a third on the same card last year. "When the [World Cup] fixtures came out at the back end of last year, we knew that this day was going to have a direct clash with the third game," said the track's manager, Jeremy Martin, "so we made provisions – we've got an additional big screen, 12 metres square, just beyond the betting ring, which will be dedicated to showing the football.

"It'd be naive to think that it wouldn't affect us. It's well known that when England play in big competitions, pretty much the whole country stops, it's a priority for so many people."

Hundreds of racegoers gathered between the stands rail and the big screen to watch yesterday's game and seemed not to know which way to look when the races began. Mahadee made a jinking run through the opposition with a furlong to go in the mile handicap, just as Wayne Rooney galloped towards goal, while punters span like tops in an attempt to take it all in.

The cheer that greeted the final score was followed moments later by a groan from the racecourse office as the news came through that the US had scored against Algeria. That meant England finished second in their group rather than top and will play their next match on Sunday afternoon, clashing with another day's racing at Salisbury.

Martin acknowledged that Sunday's fixture, when a family crowd of 4,000 or 5,000 would normally be expected, is vulnerable to an even greater drop in attendance than yesterday's, partly because he had thought there would be no need to order a second big screen to show the game. He was last night scrambling to arrange one at short notice.

"It wasn't what I was anticipating. We thought England would win [the group] and play the next game on Saturday night. If we don't get a second screen we'll just have to chop and change between the racing and the football."