| | | |
| --- | --- | --- |
| | Welcome to the News desk. | |

| | |
| --- | --- |
| Roulette machines pass horses in race for punters' stakes | 8/8/2008 |

Simon Bowers

Takings from touch-screen roulette machines in Ladbrokes' betting shops have edged ahead of earnings from traditional horse-racing bets - the first product to do so in the group's 122-year history.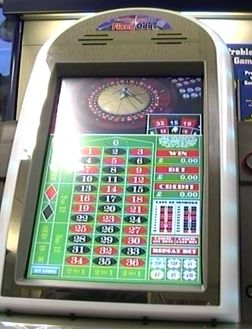 Roulette Machine

The average weekly sum per machine lost by punters playing in Ladbrokes' UK betting shops rose by 18.2% to £676 during the first six months of 2008. Meanwhile, traditional over-the-counter takings rose by 0.9%, to £251.8m, with horse racing accounting for just under half of that figure, increasingly losing share to other sports bet offers, particularly football.

Takings from Ladbrokes' 8,100 machines for the half-year were £142.5m, benefiting from recent deregulation that allowed the bookmaker to advertise on television and to open for late-evening trading. Seven years ago about two-thirds of Ladbrokes' shop takings were from horse racing. But machines and football have attracted a new generation of punters, with a sharp contrast in betting habits between those under 35 and the over-35s.

Brian Wallace, finance director, warned investors that seven years of growth from its machines was now likely to slow as the market matures. He expects machine takings to rise 11% for the second half of 2008, prompting concerns among some analysts about growth prospects for betting shops. Its rival bookmaker William Hill has also warned of slowing machine growth.

Gross win from the Ladbrokes' online bookmaking, poker and casino operations rose 23% to £96m, but the group in effect gave away £9.4m in free bets, promotions and bonuses as well as spending £19m on marketing to recruit and retain players. As a result, operating profit for the e-gaming division was almost flat at £26.2m.

Chris Bell, chief executive, said he did not expect aggressive promotions on the high street to reach the levels seen on the internet. Nevertheless, the group in June launched a reward points-based loyalty card scheme, which has already seen £1m in free bets redeemed by customers.

Bell and John O'Reilly, head of e-gaming, have lobbied Treasury officials to substantially lower the 15% gross profits tax charged on online sports bookies based in the UK, arguing that their web business will ultimately struggle to compete against rivals based in offshore tax havens.

William Hill and other high-street chains are making a similar case to Treasury officials but they and Ladbrokes so far remain committed to a "gentlemen's agreement" under which the leading UK bookmakers promised in 2001 to bring their online businesses onshore, in exchange for the replacement of betting duty with a lighter tax on gross profits.

That tax change, overseen by Gordon Brown when he was chancellor, led to the rapid proliferation of roulette machines in betting shops. These proved to be so lucrative that leading chains saw their share prices quickly double.

Ladbrokes said yesterday its operating profit for the first half of this year fell 11.8% to £170m, largely reflecting a sharp drop in the traditionally volatile high-roller custom at the telephone betting division. Takes for the first three months of the year were strong but then faded with a run of good results for punters at Royal Ascot and the Euro 2008 football tournament.

Bell said it was a testament to the growing popularity of football betting that Euro 2008 had attracted bets totalling £30m - more than Euro 2004, despite the absence of home nation interest. However, he admitted profits were much lower as the ultimate victors, Spain, were well backed whereas Greece's surprise win four years earlier proved highly lucrative.

Backstory
Touch-screen roulette machines - with jackpot payouts of £500 - arrived in betting shops in the mid-1990s and took off when tax changes in 2001 made low-margin games more lucrative. In 2003 Lord McIntosh, then sports minister, said the machines were "unlawful", a claim the government dropped. The 2005 Gambling Act brought them within a regulatory regime. A survey for the Gambling commission last year found one in nine players were problem gamblers or addicts. Ministers still insist the machines are "on probation".