| | | |
| --- | --- | --- |
| | Welcome to the News desk. | |

| | |
| --- | --- |
| Activist punter accuses sport of misleading public | 6/8/2008 |

Greg Wood

It is part of the fascination of racing that so many different factors can affect a horse's performance in a race. The state of the ground, though, may very well be the most important factor of all and one dissatisfied punter is mounting a successful campaign to highlight what he feels is the inaccuracy of many going reports.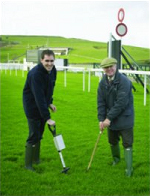 Mike Maher of TurfTrax and Seamus Buckley from Goodwood Racecourse compare the GoingStick to the traditional method.

On April 8, Nick Davis started a thread on Betfair's internet forum - surely the largest aggregation of punters anywhere on the web - inviting fellow punters to "put all observations [about going reports] for Flat racing this season on one thread so we can send it to the Gambling Commission in October under the file 'giving misleading information to the public'".

Most threads on the Betfair forum last a day or two at most before dropping into internet oblivion, but Davis's effort clearly struck a chord. Four months and nearly 700 individual posts later, it is still going strong, providing what he believes is an ongoing record of serious discrepancies between the reported going and the true condition of the ground.

It is a broad subject and contributors' complaints fall into several distinct categories. These include apparent contradictions between GoingStick readings and going reports, possible attempts by course officials to even out draw biases by targeted watering and tracks' watering policies in general in pursuit of "safe" ground. But it all comes down to trust. If the going is described as good to firm, punters will place bets on that basis and have a right to expect that information to be as accurate as humanly possible.

Davis, who is 49, has been betting all his life and is not surprised that his internet campaign has attracted so much support. "It seems to be something that no-one in authority wants to talk about," he said yesterday. "The British Horseracing Authority's directive for Flat ground is that clerks should aim to provide good to firm going, but many clerks seem to go beyond that and keep watering so that it ends up good or even good to soft.

"Also, there is no way to correlate what GoingStick readings actually mean when you compare between different courses. A reading of 8.6 at Ayr could mean the same thing as 9.4 at Goodwood. Until tables have been compiled that compare the readings given at different courses with the actual race times, there is just no way for anyone to know."

Davis cites the watering at Glorious Goodwood last week as an example. "I was there on Friday," he says, "and as I was leaving the course, the taps had already been switched on, despite the fact that on one of the most competitive afternoons of racing in the calendar, there wasn't a single winner that managed a time below the Racing Post standard.

"To me, that suggests it was good ground already, rather than the good to firm that was advertised, and then they went and watered even more when there was rain forecast. To me, that's altering the going, not maintaining it at good to firm according to the BHA's directive, but on Saturday morning it was still being described as good to firm."

Seamus Buckley, Goodwood's clerk of the course, said yesterday that watering had taken place to ensure the safety of jockeys and horses. "We had some horses that slipped on Friday, and I wanted to get some water into the ground so that any rainfall on Saturday would not lie on top and make it dangerous and slippery," Buckley said.

"I have no doubt at all that I did the right thing. The jockeys and horses are our number one actors, as it were, and we have to look after them. I wouldn't want to be the person responsible for ending Frankie Dettori's career because there was not enough water on the track and he slipped up coming down the hill.

"If what I did upset some punters and owners, then I will just have to take that on the chin, but we had over 500 runners last week and I did not have a single complaint from a jockey about the ground."

Davis remains determined to highlight the issue. "Who benefits when courses give out inaccurate going reports?", he asked yesterday.

"Clearly, it's the bookmakers, but it is also the racing authorities, because the Levy is based on bookmakers' profits. I think it's a relationship that needs looking into and, at the end of the season, I will be sending the whole thread from the forum to the Gambling Commission and asking them to do so."

However, some progress may already be on the horizon. "This is very much an issue that is being looked at," Paul Struthers, of the BHA, said yesterday. "The problem is that to be able to make realistic comparisons between GoingStick readings at different tracks, we need to compile sufficient data. At the end of this year, we will have two full years' of readings, which should enable us to do just that.

"Use of the GoingStick will be required at all tracks from January 1, when we would also hope to encourage clerks to take readings much closer to racing, which could be published on our website." For the keyboard warriors on Betfair's forum, it would not be a moment too soon.