| | | |
| --- | --- | --- |
| | Welcome to the News desk. | |

| | |
| --- | --- |
| Ladbrokes wins at roulette but loses High-Rollers | 17/5/2008 |

Simon Bowers

Ladbrokes has enjoyed another sharp rise in the take from its 8,200 touch-screen roulette terminals in betting shops, up 26% for the first four months of 2008 after they were upgraded last year.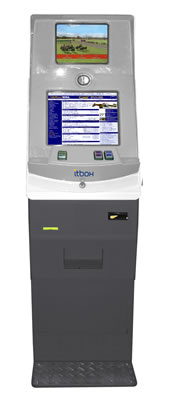 Fixed Odds Betting

Average gross take on a Ladbrokes machine increased from £538 to £673 a week, compared with average weekly takings from a pub fruit machine of less than £225, according to industry figures.

The Gambling Commission is reviewing all high-stakes slot machines in the UK. A previous investigation found one in nine playing on these machines was a problem gambler. The commission is not expected to report until next April; in the meantime, an all-party parliamentary group on betting is also looking at machines and is expected to give its views shortly.

A loophole in regulations allowed bookmakers to introduce roulette terminals seven years ago and the 2005 Gambling Act brought them within a formal regulatory code. Nevertheless, ministers have repeatedly said they are "on probation".

Some believe banning touch-screen roulette would make many shops unprofitable and push several operators out of business. A ban would also wipe out the Treasury's duty revenues.

Overall, Ladbrokes' profits for the first four months, excluding high-rolling customers, increased 13%. The business had last year benefited from heavy high-roller losses.

Ladbrokes made a £40m profit on high rollers who will place a five-figure sum on a single wager. This accounted for more than half of the company's gross winnings.

However, it admitted that this profitable area has now almost dried up in recent weeks, or reached "de minimis levels" as it put it.

A Ladbrokes spokesman said that historically the high-roller market "comes and goes". He thought it unlikely that the credit crunch had left the high rollers out of pocket, or that Ladbrokes has now wiped them out.

Horse racing was a more mixed affair for Ladbrokes. It profited at the Gold Cup by offering decent odds on hot favourite Kauto Star, who trailed in second.

But the Aintree Grand National was rather less successful – with 7-1 favourite Comply or Die coming home first.

Ladbrokes believes it is "recession resilient, but not recession-proof", and has not yet suffered from the consumer slowdown.

"Gross win grew strongly during the first four months of the year and, whilst our business has seen no evidence yet of a consumer downturn, we remain mindful of general economic conditions," said chief executive Chris Bell.

The company's shares rose 5p to 315p.