| | | |
| --- | --- | --- |
| | Welcome to the News desk. | |

| | |
| --- | --- |
| 50p punter wins £1m on birthday | 25/2/2008 |

Staff

North Yorkshire's betting shop millionaire has collected his money after staking just 50p on eight winning horses. Fred Craggs discovered he had won £1 million on his 60th birthday, but he sat through a family meal that evening without telling anyone his secret.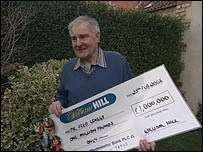 Fred Craggs



Fred Craggs, from Thirsk, found he had hit the bonanza on his 60th birthday at the weekend, but sat through a family meal without telling anyone.

He beat odds of two million to one when all his horses came home on Saturday.

A William Hill spokesman said the bet was "the most amazing ever" since betting shops were made legal in 1961.

Mr Craggs placed his bet last Friday in a William Hill shop in Thirsk.

He needed all eight horses to win - from the first horse called Isn't That Lucky, to the last horse called A Dream Come True.

But he only discovered he was a millionaire when he went to place another bet in Bedale on Saturday.

"I had quite a glowing feeling in the shop but none of the other customers seemed to notice."

"I've never spent more than the price of a packet of cigarettes on a bet so it is very surprising that I won this much money."

William Hill spokesman Graham Sharpe said: "We are delighted that the wait to discover the identity of our fortunate client is now over, and that he has been in touch and arranged to receive his winning cheque - we can now put him forward for inclusion in the Guinness Book of World Records."

And he added: "Mr Craggs does follow form, but also uses his own instinct to make his final selections - that instinct was certainly spot on this occasion."



Play Online Poker