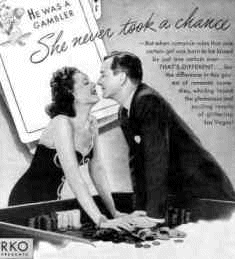 This is an old time comedy gambling caper movie that stands the test of time very well. Its freshness is due to a combination of factors; first the ways of gamblers don't seem to have changed much in 50+ years and second the co-lead is a woman who ends up running a gambling joint in Vegas, highly liberating stuff for the war decade and still exceptional today.
Robert Young heartily plays an inteligent gambler who is prepared to give up his way of life to "get a job I suppose" as a condition of marriage to his knew love. Barbara Hale plays his soon to be wife. When the man gives up a sure thing on a rigged horse race she decides he's reformed enough to marry immediately, which they do the instant they arrive in Las Vegas. (you might well ask why they chose that destination, I think it was because of the easy marriage thing)
In an amusing scene, Robert Young induces a weak Craps player to lose all his money, where-upon he sets about getting the losers dough back for him. His new wife catches him and files immediately for divorce. From this point onwards the film revolves around Young trying to get her back with the help of all his friends, which he is unaware of. Hale on the other hand is determined to go against his wishes and gets heavily into gambling herself.
This is fun and there is no sensationalising of gambling, infact there is a side-crack at the Hollywood slant on the gambling breed. Non gamblers score~6/10.