---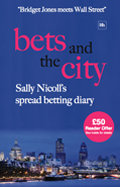 Bets and the City
by Sally Nicoll

The book is a diary that describes the journey author Sally Nicoll takes from her introduction to trading, in the form of spread betting, through the losing phases, which we are all familiar with, until she starts to make consistent profits.

On her journey Sally encounters five "gurus" (her words not mine) one of whom she says has good legs - although modesty forbids me to reveal the identity of this fine figure of masculinity. Each guru completes a piece in the trading puzzle and from her initial random and chaotic spread betting forays Sally Nicoll slowly develops a methodology and the discipline to operate it. The book is unique in its style and is certainly the most enjoyable "trading" book I have read.

However, spread betting is not for the mug punter, so if you are a mug don't buy this book. If, on the other hand, you can take good advice and apply it sensibly then you are on to a winner.



Paperback - 219 pages (15 Nov 2006)

£6.59

$15.60
---

Play Online Poker