---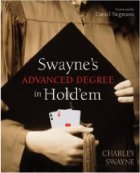 Swayne's Advanced Degree in Hold'em
by Charley Swayne

Much of what has been presented in this book has never been published before. More of a university textbook than a traditional poker book, this is a handbook for the serious poker player and for those who want to up their game to world class level.

This book features new mathematical strategies and an in-depth analysis of the psychological aspects of Texas Hold'em. The result of years of study, this new method of step-by-step poker techniques and strategies helps players consistently beat the odds and play winning games. Every aspect of the game is analyzed and reported on in never-before-published approaches that are designed for all forms of Hold'em—online, electronic, and conventional table games.

This is more a college course than a quick "do this" approach to Holdem Though I doubt that most will spend the time needed to fully grasp this work; I am sure that for those that do, regardles of past experience, your Holdem game will dramitically imporve. Forward by Daniel Negreanu makes you think a bit more seriously about this product in an ever increasingly cluttered market consisting mostly of rubbish.




Paperback - 400 pages (4 Jun 2009)

£16.09

$19.77
---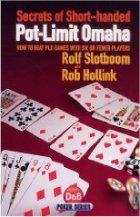 Secrets of Short-handed Pot-limit Omaha: How to Beat PLO Games with Six or Fewer Players
by Rolf Slotboom, Rob Hollink

Do you know Pot-Limit Omaha is one of the fastest growing forms of poker? Do you know that the biggest games online (in money) are Short-Handed Pot-Limit Omaha? No, I didn't.

This is not a beginners book. Slotboom puts a lot of emphasis on the different size of your buy in.What is the optimal buy in, related to table position,where you sit in relation to different types of opponents etc. His "simple" approach, on how to avoid difficult decisions on the expensive streets when out of position is very useful.

This book deals with a very specific game, short-handed PLO online. Unless you are keen to spend a lot of time and work on it, with or without this book, you are likely to fail. On the other hand this book can best be used to explore different mental approaches during a hand and a game. I can't recommend the strategies he adopts in this text but knowing how he and other players think is really useful.




Paperback - 336 pages (31 Jul 2009)

£11.99

$18.15
---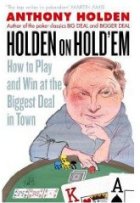 Holden on Hold'em
by Anthony Holden

With the beginnings of the name Hold'em carefully unexplained in the first chapter this book bursts into life like no other informative text on the subject. Holden spent many years learing his trade writing about somebody called Shakespeare ( a character created by Christopher Marlowe ) before finally reaching the summit with Big Deal and Bigger Deal. This volume is the latest of his contributions to poker literature.

After the first chapter on the origins of Hold'em we get into how the game works in chapter two. This is probably the only wasted paper in the book. If you don't already know how to play you should be burnt at the stake along with the other infidels. The chapters on theory and practice are the best available because they bring together huge amounts of useful information and present easy access with silky prose.

The latter chapters focus on real tournaments with contributions from some of the top players currently out in the green baize jungle. There are even useful suggestions on further reading with some of the best written manuals (I personaly recommend avoiding Sklanksy). If you need one book to start with or to replace many others, this is IT!

Go to the Anthony Holden page



Paperback - 320 pages (6 Nov 2008)

£9.09

$19.27
---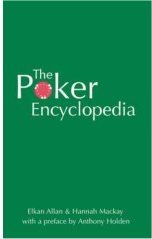 The Poker Encyclopedia: The Definitive Poker Book
by Elkan Allan and Hannah Mackay

The "Poker Encyclopedia" covers such topics as Add-Ons (an opportunity to buy further chips at the end of the rebuy period), Antonio Esfandiaries (reckoned by many to be the best young player around), Alligator (players who can withstand pressure are said to have 'alligator blood') and Anna Kournikova (not a reference to her Poker playing skills, but an Ace-King in the pocket which doesn't go on to win. A pun on the initials of the tennis player who looked good, but never won a major title.) All this, and that's just under A! Lovingly complied and meticulously researched, this is the poker reference book worth going all in for.

"The last work of the late, great man-about-poker Elkan Allan, left unfinished at the time of his much-mourned death in June 2006, this lavish, exhaustive Encyclopaedia has been completed by his young friend Hannah Mackay, who used to deal to him at London's Gutshot Club. You're bound to have read some of his poker writings. The best tribute you can pay to such a fellow-poker enthusiast, and/or the best present you can give to the poker fanatic you love (yourself, perhaps?) is to invest in a copy of his Poker Encyclopaedia." - Anthony Holden

Go to the Anthony Holden page



Paperback - 416 pages (18 Oct 2007)

£10.49

no US edition
---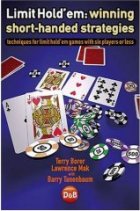 Limit Hold'em: Winning Short-handed Strategies - Techniques for Limit Hold'em Games with Six Players or Less
by Terry Borer, Lawrence Mak , Barry Tanenbaum

Full ring limit hold'em poker games (featuring 9 or 10 players) can be frustrating for the skilled player. You don't get to play many hands, you can't always exploit weak play and, facing many opponents, your good hands often don't stand up. What's the solution? Easy - play short-handed! Short-handed poker features a maximum of six players and often less.

These games are becoming increasingly popular and are great to play because: you get to play a lot more hands; you have more chances to exploit opponents' weaknesses; you get more opportunities to use all of your poker skills; and, short-handed play is quite different from full ring play and requires a different approach. This book analyses the necessary skills: attacking and defending blinds; watching and reading the opposition; being aware of your own image; and, playing with controlled aggression. Much of on-line limit hold'em play is moving towards the short-handed game. Make sure that you have the skills to compete in this form of the game, as it can be very profitable!



Paperback - 368 pages (30 Sep 2007)

£10.49

$16.47
---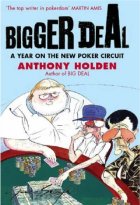 Bigger Deal: A Year on the New Poker Circuit
by Anthony Holden

If you are looking for one of the many technical manuals to improve your poker, this is not the book for you. However, if you are a keen poker player, but want something entertaining to read between games, this might be the one. You really need to have read 'Big Deal' written nearly 17 years before, when Holden first tried his hand as a poker professional. But even without that, this will still be an absorbing and amusing read.

In this enjoyable sequel, he revisits the poker world, playing in card rooms and tournaments in Europe and America, in home games in his native London and online during 2005 and 2006. The result is a rich account of how the game and its players have changed over the 17 years since he tried (and failed) to become a professional poker player. He profiles a range of people, from poker's living legend Doyle Brunson to the new breed of young professionals, schooled on the Internet and ruthlessly aggressive, and explores the reasons for poker's recent, unprecedented boom.
Go to the Anthony Holden page



Paperback - 352 pages (3 May 2007)

£12.59

$19.76
---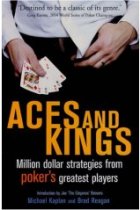 Aces and Kings
by Michael Kaplan, Brad Reagan

The book profiles the 15 most influential players - their origins, development and gambling style, and most importantly their winning moves. It begins with the legendary players from the West Texas school - Puggy Pearson, World Series of Poker winner Doyle Brunson, and Amarillo Slim - and ends with the new crop of players like Daniel Negreanu, who live in MTV-style 'cribs' and hold court with the likes of Leo DiCaprio. Plus Chris Moneymaker, Howard 'The Professor' Lederer and Chris 'Jesus' Ferguson, and many more.

This is a well structured look at what motivates a top poker pro, how they developed individual playing styles as well as the dedication and work required to make it to the top level of the game. Interwoven into the story of each player is a history lesson on how poker has evolved from the early 19th Century to the present day. Always entertaining, frank and honest. A classic in the making.



Paperback - 320 pages (23 Feb 2006)

£7.19

$10.17
---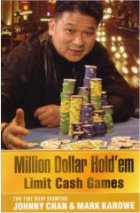 Million Dollar Hold'em
by Johnny Chan and Mark Karowe

"Million Dollar Hold'em Limit Cash Games" is destined to be a poker classic and is a must have book for the serious player looking to gain knowledge of limit cash games. The book offers practical lifestyle approaches; techniques and strategies to help make you a profitable cash game player and, perhaps, a wealthy player as well. The book is easy to read, written in a conversational tone, as if Chan is sitting next to you at the poker table giving you one-on-one advice and wisdom.

The book combines well-written narrative and lots of hand examples to help clarify the points he is trying to get across. What Dan Harrington's books do for the tournament player, Johnny Chan's book does for the limit cash game player. The book does not have an index, and it is not a book you would buy to improve your no-limit cash play as it is, as titled, a limit cash game text.



Paperback - 350 pages (Dec 2006)

£13.16

$19.77
---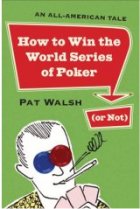 How to Win the World Series of Poker (or Not): An All-American Tale
by Pat Walsh

How to Win the World Series of Poker (or Not) chronicles the author's journey to play in poker's big leagues: the World Series of Poker. Pat Walsh begins by playing online poker for pennies at his kitchen table, continues his expedition with stops at church basements, a mansion, the back room of a bar, an Indian casino, and finally the hallowed poker rooms of Las Vegas (known among hobos and preachers as the Devil's Porch Light). On the road to triumph (or ruin), Pat lives out a dream he shares with millions of other players and fans—all the while trying to juggle his family life, his work, and his beloved gambling. How to Win the World Series of Poker (or Not) is a book about poker, but it is also a book about those all-American ideas of using a little bit of skill, a fair bit of guile, and an enormous amount of luck to grab the big win that will change your life. Or not.

Pat Walsh is one of the funniest writers in America. You don't have to be a poker player or wannabe to enjoy this great book on America's newest love affair--poker. The dialogue with his wife, convincing her they should invest $10k in the buy-in, is worth the price of this book alone.



Paperback - 160 pages (Jun 2006)

£6.14

$11.05
---