| | | |
| --- | --- | --- |
| | Welcome to the News desk. | |

| | |
| --- | --- |
| Big Payouts in Irish Poker over the Easter Weekend | 27/04/2011 |

Roy Brindley
Unknown Irish player Niall Smyth lands the Irish Open

County Clare hospital attendant, Niall Smyth started 9 April with €10 each-way bet on the English Grand National but after one week ended up with a €550,000 cheque.

His method was simply to select the winner of The Grand National and then promptly transfer his winnings into his poker account and proceed to win a satellite tournament into the main event of the Irish Open poker tournament. Playing over the holiday weekend he then overcame 614 rivals to collect a €550,000 winner's cheque.

Former World Poker Tour champion Surinder Sunar finished runner-up to Smyth after a protracted three-and-a-half-hour heads-up battle.

"Unbelievable. I just can't believe it," said an exhausted but elated Smyth after he collected his trophy. "It started when I put €10 each-way on the winner of the English Grand National, I won €200 euro and now I have €650,000. Surinder is such a great player, my support has been fantastic, and here I am!"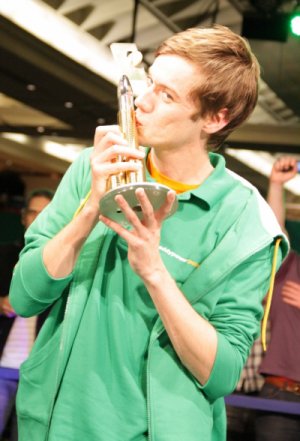 Niall Smyth (Ireland)

The final table payouts were:
1: Niall Smyth (Ireland) - €550,000
2: Surinder Sunar (England) - €290,000
3: Martin Petri (Denmark) - €180,000
4: Seamus Cahill (Ireland) - €145,000
5: Aleksi Savela (Finand) - €115,000
6: Karl Rudwall (Sweden) - €85,000
7: Rob Taylor (Ireland) - €63,000
8: John Eames (UK) - €45,000
9: Niall McCann (Ireland) - €30,000

Meanwhile bookmaking giant Ladbrokes had a costly day. Their sponsorship contribution to the €250,000 Irish Grand National was matched by an unbelievable €247,200 overlay in their €750,000 Ladbrokespoker.com guaranteed Easter Hold'em Online Tournament which concluded Monday.

As rare as a virgin in a maternity ward, overlays (dead/added money in a tournament) are Shangri-la any self respecting professional and yet three more unknowns, hiding away behind the anonymity of an online poker alias, took away the major prizes in this event.

Final table payouts were:
1: Alias: torin1 - €176,250
2: Alias: Kovaleff - €101,250
3: Alias: AndrasFb-391 - €65,250
4: Alias: Needlefish - €47,250